Oozing with old-world charm, historical significance, and cultural heritage, Kandy is the second largest city in Sri Lanka. It was the royal capital of the Sinhalese kings from 1592 to 1815. It is also referred to as the 'hill country of Sri Lanka'.
Kandy is situated at an elevation of 500 meters above sea level. Since it is set on a plateau, it is surrounded by mountains, tea plantations, and biodiverse rainforests.
The beauty of Kandy is that it has something to offer for every kind of traveler. Swarmed with bustling, colorful markets, temples, spice gardens, picturesque lakes, and natural scenic beauty, the city is nothing short of beautiful. The city is a must visit on your trip to Sri Lanka. Since Kandy is wedged amidst mist-laden hills, you'll often find the skies overcast. The delicate and gentle breeze reveals the city's colorful houses and improbable forest halo.
The beauty of the city is that it looks good even when it's raining. On a sunny day, you'll find cobalt-blue skies revealing the colonial-era and Kandyan architecture.
Kandy is also known for its distinctive dance, music, and architecture. Temple of the Tooth in Kandy is a popular tourist spot that is home to the island's most revered Buddhist relic. If you want to experience the rich culture that encapsulates the city, you must make a visit during the city's renowned Kandy Esala Perahera festival that is held annually in July/August.
Also Read: Tangalle Beach – The Natural Treasure of Sri Lanka
Getting There
Kandy is 115 kilometers from Colombo. If you are a tourist coming from any other country, you will have to fly to Colombo and then choose your most preferred transportation mode. Since Kandy is one of Sri Lanka's most touristy towns, there are plenty of options such as trains, buses, and cars to get there.
To save you from the research, we've outlined the most efficient, fastest and cheapest ways of getting to Kandy from Colombo.
By Car: Once you land in Colombo, you'll find plenty of direct taxis that will take you to Kandy. However, these don't come cheap. We would recommend to book ahead or ask your hotel to arrange transport. The benefits of hiring a tax are that you get to travel in an air-conditioned car and are guaranteed a seat. It will take around 3 hours 15 minutes to get to Kandy from the airport. Make sure to ask your driver to take the expressway. Traveling by car to Kandy costs around $122. It's not just expensive but also the least green way of getting to Kandy.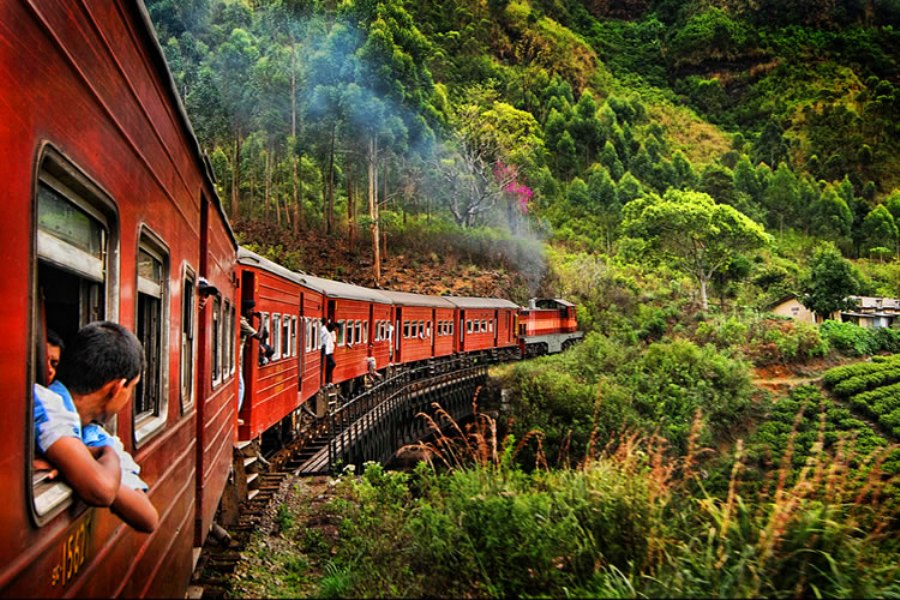 By Train: Traveling by train from Colombo to Kandy is cheap and hassle-free. Also, you get to enjoy the scenic beauty of Sri Lanka with spectacular views. There are several trains that operate daily. Remember, Sri Lankan Railways do not offer online bookings. Thus, to book a train ticket you will have to get hold of a reputable travel company. A ticket for one costs around $22. Choosing this mode has only pros, however, the only negative point is that you're not guaranteed a city. Find the train timings here.
By Bus: You'll find several buses throughout the day and night that are frequent from Colombo to Kandy. This is the cheapest way of getting to Kandy. A ticket per passenger costs only $2. You can catch a bus from Colombo Bus Station. If you are at the airport, you can catch a bus from Negombo bus terminal. If you don't want to travel by the public bus, you could opt for a private air-conditioned AC vehicle too because let's face it, Sri Lanka can get quite hot during the day. You can get a bus from the private bus stand at Pettah. A ticket for one in an AC bus costs $4.
Whichever route you choose, the final destination is the same, only the experiences are different.
Also Read: Mirissa's Secret Beach
 Best time to visit
Beautiful tea plantations and mountains in Kandy keep the temperatures between 19 – 28C all year around. However, he's a round-up on the weather you can expect in different seasons:
December to April: This is the best time to enjoy a holiday in Kandy. The weather is dry and pleasant. Despite being winter, the cold is minimal. This is also the best time to go sightseeing or enjoy a trek in the mountain ranges.
May to September: Sri Lanka experiences two monsoons. During May till September, the Yala monsoon brings rain to the south-western part of the country. Sightseeing and trekking can get tricky during this time. The number of tourists visiting is also low. However, this is also a good time when you get secure cheap hotel deals.
October to November: This is also a low-key season in Kandy. The weather is erratic. These are also the wettest months here.
Accommodation in Kandy
Most people's idea of a perfect holiday is to sit back, relax and enjoy scenic views (which Kandy has in abundance). Most of the hotels, homestays, guest houses and resorts in Kandy are situated in tranquil settings amidst environs of lush greenery. From luxury stay options to boutique hotels, there are several hotels in Kandy that make sure you enjoy the truly extraordinary beauty of the hill country.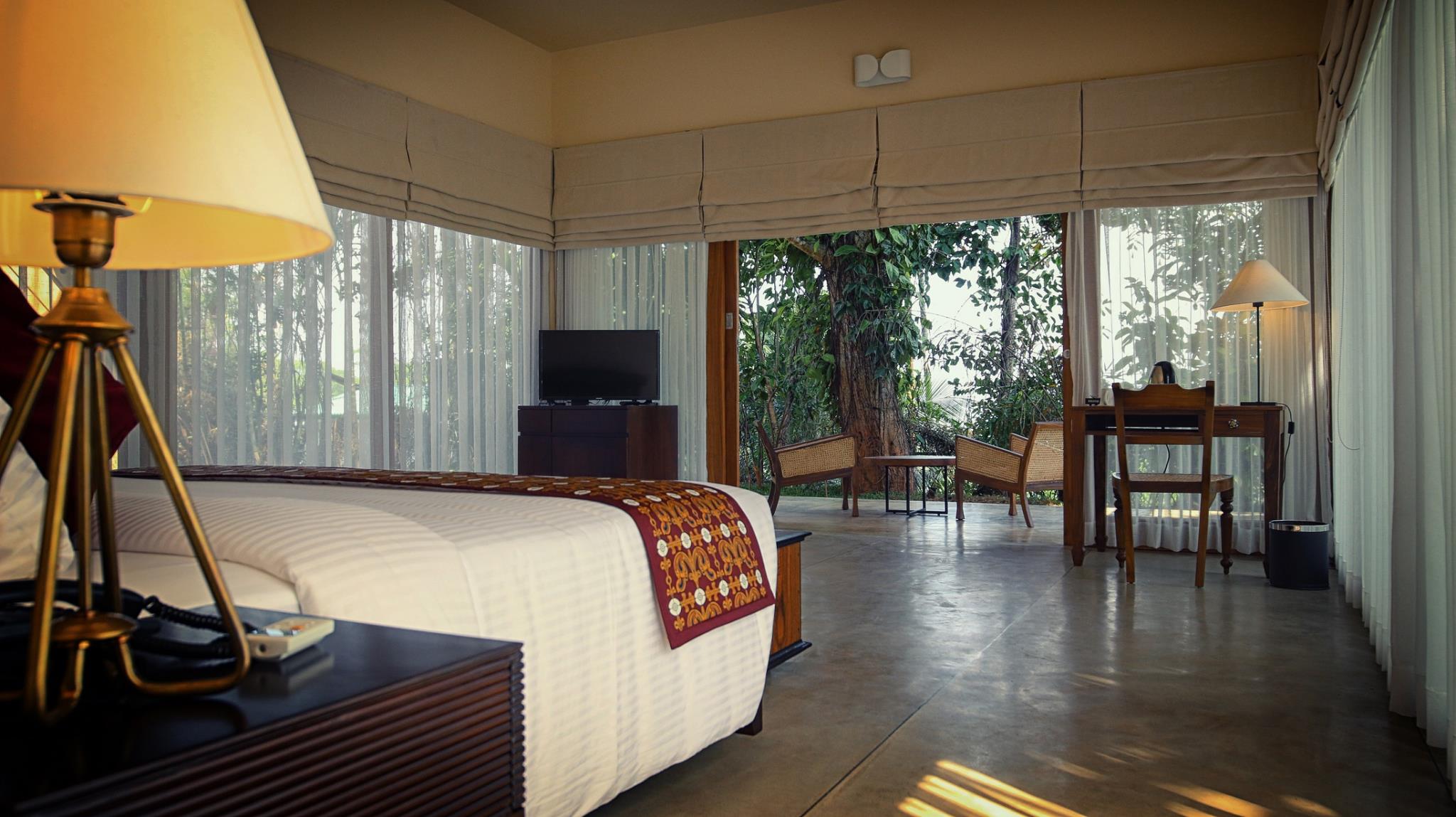 Here are some hotels we've shortlisted that not only maintain great standards in terms of service but are also ideal for a quiet and peaceful getaway.
*All prices mentioned include a breakfast spread and a night's stay for two
Luxury
Honeymooners generally prefer kicking back in style with their better halves. These luxury abode options in Kandy are great for couples as well as families:
Kings Pavilion Kandy ($332)
The Elephant Stables ($260)
Earl's Regency ($160)
Clove Villa ($190)
Mid-range
Families traveling with children generally have two pre-requisites when looking for hotels – comfortable stay and good food. These mid-range hotels meet the criteria aptly.
Randholee Resorts & Spa ($80)
Cinnamon Citadel ($72)
Vijana Boutique Hotel ($58)
Budget
Backpackers and solo travelers often look for guesthouses and hostels that offer them bed and breakfast. You can explore Kandy even without burning a hole in your pocket by staying at:
Nature Walk Resort ($15)
Bee View Homestay ($40)
Hotel See Kandy ($45)
Read This: Galle, Sri Lanka: A Walk down the Colonial Old Days
Top things to see and do in Kandy
Kandy is home to a number of tourist sites. Sitting is not even an option because you'll find several places that are worth visiting. It is listed as a world heritage site by UNESCO and is also considered one of the most sacred places of worship in the Buddhist world.
Here are some of the best places in Kandy that you must visit:
Temple of the Sacred Tooth Relic: Temple of the Tooth is one of the most important shrines in Sri Lanka. The temple is said to house Buddha's tooth. It is located north of Kandy Lake. Visitors and tourists are not allowed to see the tooth as it is stored in a gold casket shaped like Dagoba. Despite the sacred tooth being the main attraction, tourists also visit the temple to witness its splendid architecture. Locals can visit free of cost while tourists are charged $10. Learn more here.
Royal Botanical Gardens: The Royal Botanical Garden near Kandy is by far the largest and most impressive gardens in Sri Lanka. Decades ago, the garden was only reserved for the Kandyan loyalty. However today, tourists and locals are allowed inside. The entry fee into the garden is $6.
Kandy Lake: Kandy Lake is located in the centre of the city and you just can't miss it. The lake is an oasis of calm. It was created in 1807 by the last ruler of the kingdom of Kandy. The Temple of the Tooth overlooks the lake. Though there's not much to do here; you must visit the city's iconic location. The scenery is pretty and you'll just want to sit and stare at the river.
Bahiravokanda Vihara Buddha statue: Want to witness a breath-taking view of entire Kandy town? This is the place to be. It features the biggest Buddha statues you will find in Sri Lanka. The statue is 88ft high. To reach the viewpoint, you could either use the stairs or hire a tuk-tuk. You not just get to enjoy panoramic views of the city but also get to witness magical sunsets. There's also a small souvenir shop down that has lovely goodies at friendly prices. The entry fee per person is $1.
Ceylon tea museum: Ceylon Tea Museum is also a popular tourist attraction visited mainly by tea lovers. The museum comprises of four floors which comprise of old machinery, a library, and an auditorium. On the third floor, they have a sales unit that sells lip-smacking tea varieties and a magnificent restaurant where one can enjoy a free cup of tea. It is open from Tuesday – Sunday. The entry fee is $6 for adults and $3 for kids.
Udawattakele Sanctuary: To the north of Kandy Lake is Udawattakele Sanctuary. It is famous for its twisting trees, swinging monkeys and bird watching. About 80 bird species have been recorded in the sanctuary.
Take a train ride: If you want to witness the world's most beautiful train ride, take a train through the green tea plantations of Nuwara Eliya or Ella. A ticket will cost you $3. The ride to the former takes 4 hours while the latter is 7 hours.
These are the most popular tourist spots and attractions in Kandy. However, you can also consider visiting Commonwealth War Cemetery, World Buddhism Museum, and National Museum.
Also Read: Nuwara Eliya: The 'Little England' of Sri Lanka
Kandyan Dance and Drum show
When in Kandy you cannot possibly miss the art and cultural show. It is a dance, drum and musical show that is spectacular and energetic. It is performed by both males as well as female drummers. From the performers' attire to the décor, everything is pure Kandyan style.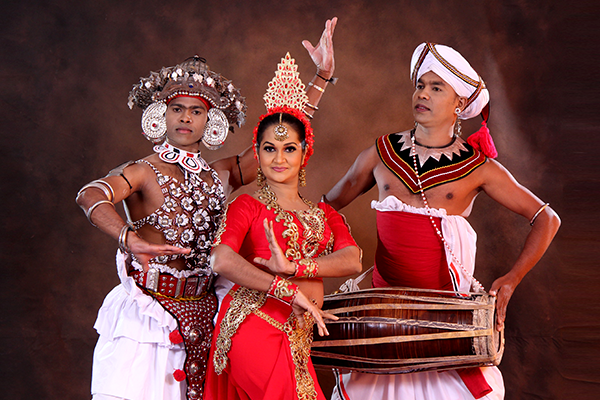 The Kandyan Art Association Hall holds shows regularly for tourists. It's a great show for kids as well. Acrobats, snake charmers, cobras, and beautiful peacocks are some of the attractions you may witness. The ticket is inexpensive and costs $3 per person.
Also Read: Kick back in style at Kalkudah & Passekudah Beach in Sri Lanka
Grab a Bite
Sri Lankan cuisine is healthy, wholesome and nutritious. In Kandy, you will find a lot of restaurants selling local meals at friendly prices. The best way to start your day is by indulging in some hoppers and curry. You'll also find many street vendors making Kottu Roti (a Sri Lankan specialty). It is not just staple food for Sri Lankans but also a budget meal.
Other popular wine and dine options in Kandy include:
Empire café
Kandy Muslim Hotel
Café Walk
Café Divine Street
Bake House
Nagalingam's Bhavan – Pure Vegetarian
Slightly Chilled Lounge Bar and Restaurant
Besides the upmarket restaurant and cafés, don't forget to try the yummy snacks sold by local vendors around the Kandy Lake. From delicious fruits sprinkled with chili salt to curry-stuffed buns and slices of bread, you'll find it all.
Kandy is a city that is truly captivating and inspiring. Being Sri Lanka's cultural heritage spot, you'll actually see history come to life. If you were planning to skip it, please don't. We promise you'll be swoon over by the magnificence and elegance of the city.
If you've been to Kandy and would like to share a memorable experience, please feel free to let us know.
Found this blog useful? Like, comment and share!
Image Source: Google