The beautiful coastline of Sri Lanka has so much to offer. Flanged with serene blue-water beaches, palm trees and gigantic rocks, beach hopping in Sri Lanka is always fun. While Hikkaduwa and Galle have been traveler favorites for a while, another small town on Sri Lanka's south coast has become a common stop on traveler itineraries.
What was once a small fishing village is slowly becoming a famous tourist destination set against a backdrop of peace and tranquillity! We're talking about the extremely underrated but beautiful town, Mirissa.
Located approximately 150 kilometers south of Colombo and situated at an elevation of 4 meters above sea level, Mirissa is coming out to be a fine and divine travel destination. If swimming, snorkeling, diving and whale watching are on your bucket list, you just need to leave everything behind and visit Mirissa now!
Also Read: Tangalle Beach – The Natural Treasure of Sri Lanka
Mirissa's distinct characteristics make it pretty unique. If crowds and loud music is your thing, you'll feel like Mirissa is your own. While if you are a traveler looking for an oasis of calm amidst the madness, the place has you sorted as well. Long afternoon walks and moonlit sojourns will only bring you closer to the raw wonders of the ocean.
While whale watching is the main calling why people actually visit Mirissa, there's another reason too. Tucked away from the main shore of Mirissa away from palm tree groves, you'll find a sign that reads 'secret beach'. More than a secret, we would like to call it a hidden gem, rightly so because it is. We're going to spill the beans on Mirissa's Secret Beach (Shhh…), read on to find out.
Getting there
Located in the Matara District of the Southern Province, Mirissa is 150 kilometers south of Colombo.
There are two ways to get there: rail and road.
Sri Lanka Railways operates a train from Colombo to Mirissa twice daily. Tickets cost $1 – $3 and the journey takes 3 h 7 min. This is the most cost-effective option to reach Mirissa.
Also Read: Nuwara Eliya: The 'Little England' of Sri Lanka
If you are not traveling on a budget, opt for a taxi or bus. This is the best way to witness the scenic beauty of Sri Lanka. From Colombo airport, it would take roughly three hours to reach Mirissa. While hiring a taxi would cost approximately $75, a bus journey would cost about $10.
No matter which route you choose, the final destination is beautiful.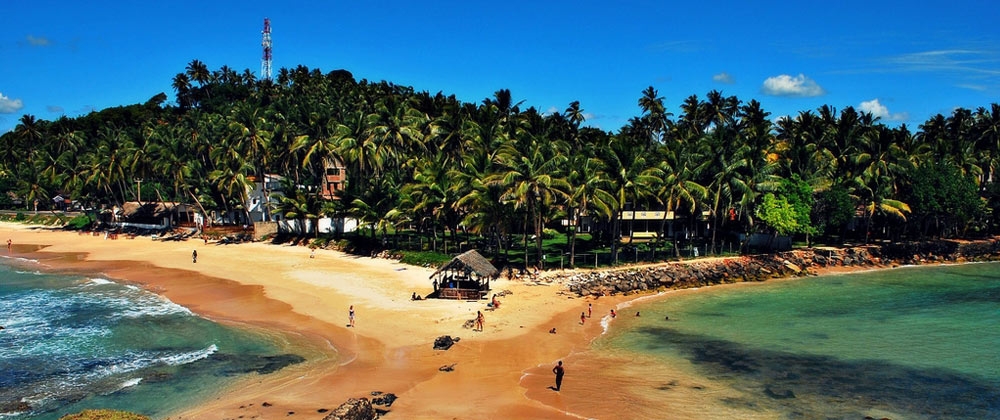 Best time to visit
If whale watching is on your list, December to March is the best time to visit. The sea is generally calm in the morning and rough towards the afternoon. Most whale watching tours start early in the morning around sunrise.
The months of April and May are the hottest months in Mirissa. From May till October, fewer whales can be spotted as the sea tends to get rough.
However, June is the worst time to visit as monsoon will be at its peak.
During the peak season, the chances for blue whale sightings are 90%.
Also Read: Foreign Embassies Details
Where to stay?
Mirissa is known for its affordable accommodation. So you can rest assured that staying in Mirissa won't burn a hole in your pocket. We would recommend that even if you are not on a budget; choose affordable options so that you can spend the rest of your money on water sports, nightlife and excursions.
Esprit D'ici Hotel is a wonderful boutique hotel in Mirissa. Ocean view rooms, infinity pools and rooftop gardens are some of the striking highlights of this wonderful lodging option. Set in a tranquil and relaxed setting and the forest in the backdrop, you are sure to sight playful monkeys, peacocks and more. The cost for a night's stay for two would cost $65.
If you are looking for something more cost-effective, then we would recommend Mirissa Hills. Situated a few minutes from Weligama Bay, Mirissa Hills is an old estate house converted into a lodging option for travelers. Besides being neat and clean, the place offers stunning views. A night for two would cost $30.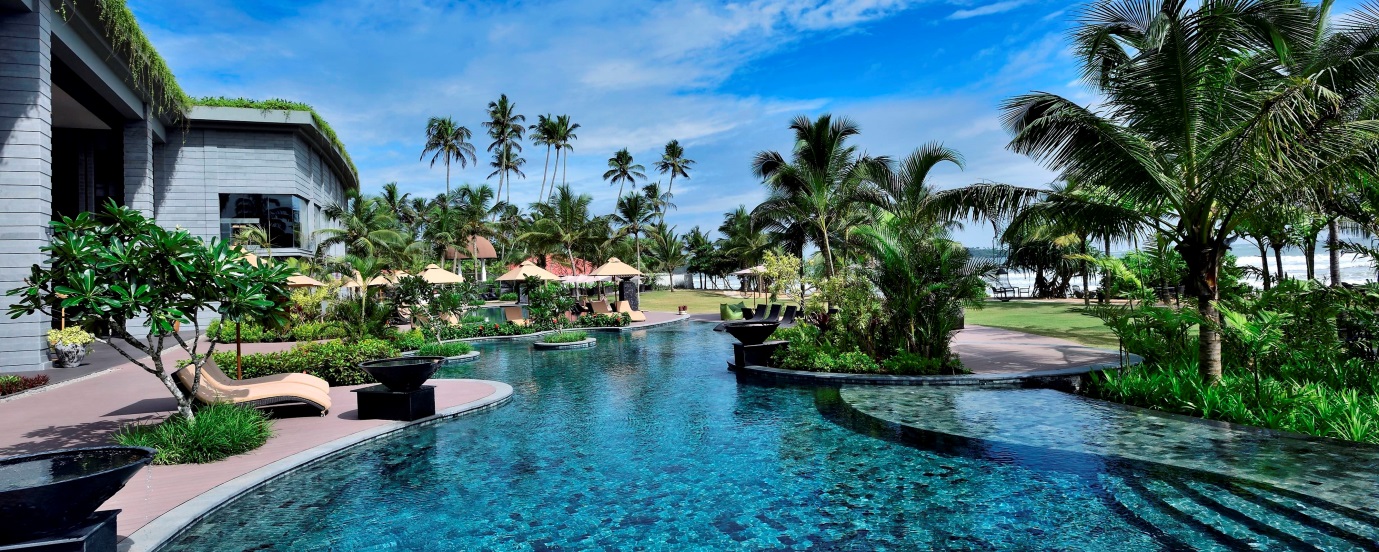 As mentioned earlier, you may not find fancy, upmarket hotels in Mirissa because it's a village that has gained recognition over the years. Well, if you're the hoity-toity kind and want to be spoiled on your vacation, Weligama Bay Marriott Resort & Spa has you sorted. An upmarket, beachfront property, the resort features three outdoor pools and a spa. The best part is that its only 6 kilometers from the Mirissa. Offering stunning ocean views, the resort is nothing short of beautiful. However, you will have to shell out a whopping $227 if you want to stay here for a night.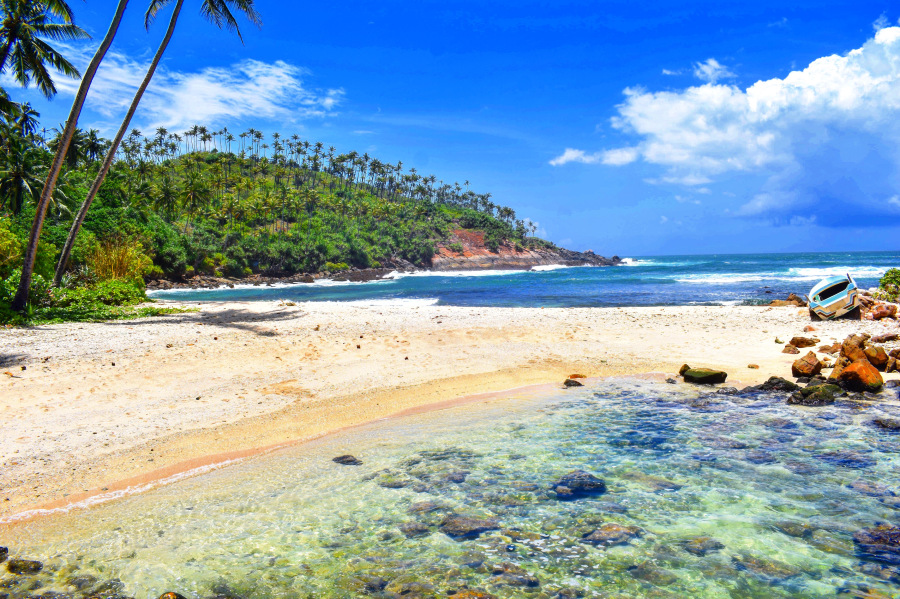 We're about to unveil the biggest secret of Mirissa and that's this hidden gem called Secret Beach. This little beach is located close to the main beach and is on the south-east tip that makes up Weligama Bay.
Since it is difficult to reach, only real beach lovers make their way through it. Secret Beach is a very small beach with two beach strips, pristine blue waters and coarse coral sand. You'll also find plenty of low-hanging trees. If you want to witness Sri Lanka's tropical beach beauty, you have to visit Secret Beach.
For those wondering, why it's been christened Secret Beach is mainly because it's difficult to find, and once you are close to the starting point, it is a 20-minute hilly hike. Just like most other things in life, in the end, it will all be worthwhile.
If you are unable to find the board, ask a tuk-tuk driver. Most of them know where Secret Beach is located. If you plan to take a tuk-tuk, it should cost you $2.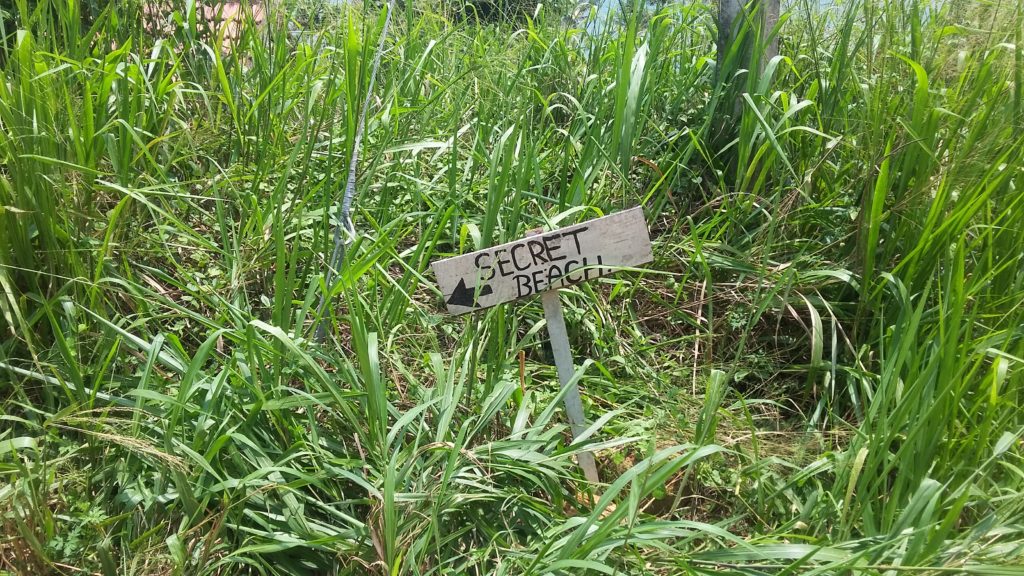 Since the beach is pretty small, there are no lodging options available. However, it's great to spend a day there. There's a nice little beach bar where you'll find recliners and sunbed to relax in. Since there's nothing really to do there, take your favorite book along and stay till sunset. We promise you will witness the most beautiful sunset in Secret Beach.
To get there, find the 'secret beach' sign between Mirissa's main beach and the Navy Hotel. Once you're there, it's just a 20-minute hike uphill.
If crowded beaches aren't your thing, you'll find paradise here.
Also Read: Breakfast with Elephants
Things to do in Mirissa, Sri Lanka
In Sri Lanka, you can never be bored because there's so much to see and do. If adventure is your middle name, then here are a few things you should definitely consider doing in Mirissa:
Whale watching: One of the primary reasons most tourists visit Mirissa is to see the giant blue whale. It is an incredible experience. The main whale watching season runs from November to March. There are plenty of operators that organize whale watching tours. A tour costs roughly $33 per person. However, prices do vary among different operators. You'll be able to see an abundance of marine life including dolphins, sperm whales, whale sharks, turtles, orcas and more. We recommend choosing a reputed operator even if that means spending a little more because you'll be assured of a proper ferry and life jackets. The tours start early in the morning, around 5:45 am. The tours are arranged impeccably. Food and drink are provided onboard and you are guided along the way by a knowledgeable crew.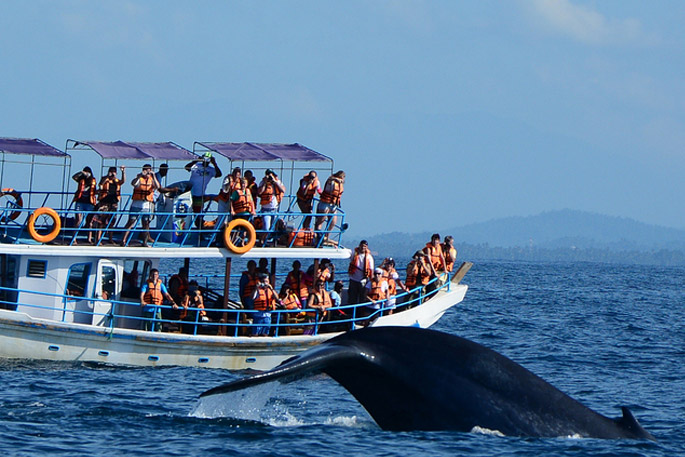 Water sports: Surfing has become extremely popular with tourists in Mirissa. There are plenty of shops on the beach that allow you to rent boards. Renting a board for an hour costs $2. Besides surfing, the waters near the beach are great for snorkeling too. If you've been dreaming of swimming with the turtles, here's your chance to make it come true. A morning snorkel tour costs $13.
Parrot rock: Parrot rock is a viewpoint in Mirissa and is a great place to visit if you want to catch a mesmerizing sunset.
Galle – Day visit: If you want to make the most off your visit to Sri Lanka and want to see as many places are possible, consider doing a day trip to nearby places such as Galle and Hikkaduwa. A bus ride from Mirissa to Galle costs $1 since it is just 40 minutes away. Unawatuna is 15 minutes away from Galle, but coming from Mirissa, you will hit Unawatuna first. For more information on Galle, read our blog.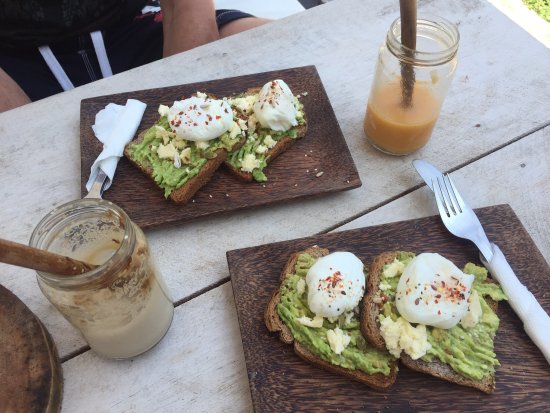 Dine, Wine & Dance in Mirissa
While there are certain must-try dishes in Sri Lanka, there are also a large number of cafes and restaurants that offer lip-smacking cuisines from around the world. Here are few of our best picks:
Coco Loco: If breakfast bowls and healthy meals are on your mind, think Coco Loco. Hidden on a narrow street, this café is definitely worth a visit.
Kama: A modern beachfront restaurant that does amazing cocktails. The best part is that they have happy hours too.
Hangover hostel café: As the name suggests, if you need a burger fix after a night of drinking, head here.
Zephyr: Seafood and Sri Lanka are synonymous. Mirissa is no exception when it comes to serving some delicious curries and rice preparations. Zephyr is an upmarket restaurant where you'll find the best seafood.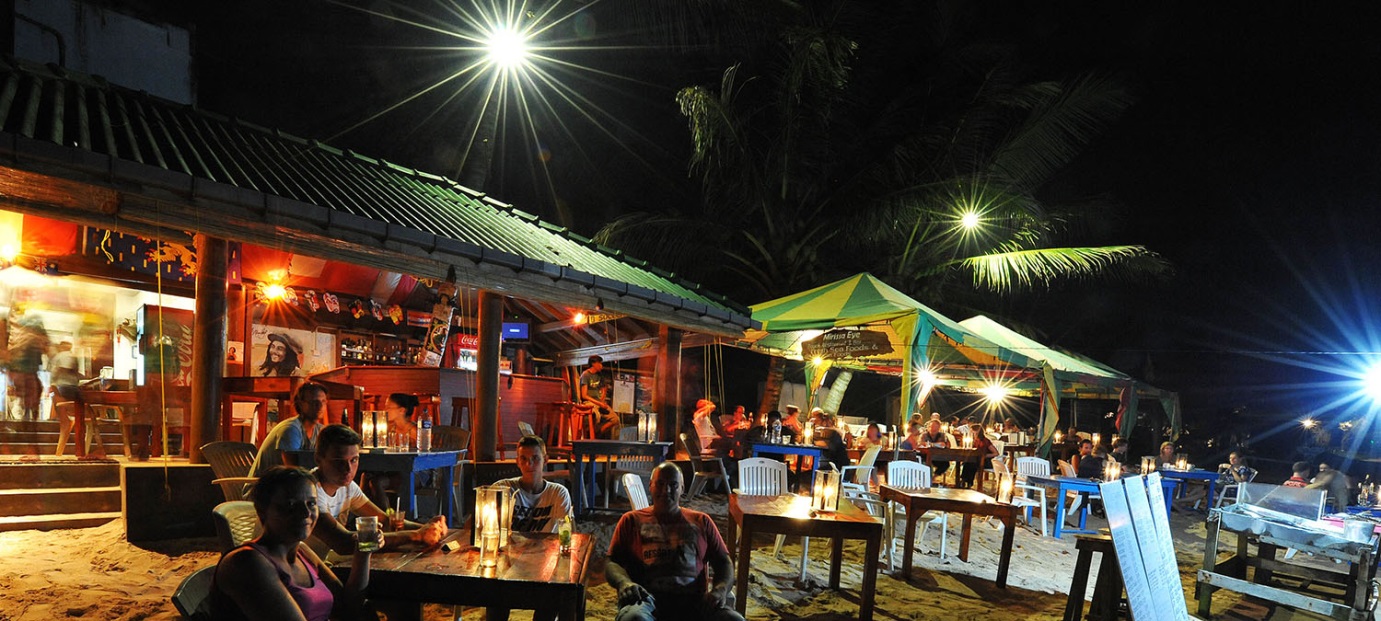 Nightlife in Mirissa
Mirissa is recognized for its lively atmosphere and nightlife. Once the sun goes down, you can expect 90% of the bars to be crowded, playing some loud music. The parties rotate between all the beachside bars which make it easy to decide where to go. The good news is that drinking in Mirissa is quite affordable. The average cost of a cocktail is $2. Super cheap, right? However, if you plan a long night, remember to drink responsibly.
Also Read: Sri Lanka Visa Services
Mirissa is definitely the hidden gem of Sri Lanka. Whether you are going with a big group or small group, or solo, you're sure to enjoy the sheer beauty of the beaches. Also, the people in Mirissa are extremely helpful and sweet.
Get packing, guys!
Found this blog useful? Like, comment and share!
Image Source: Google