Of white sand beaches, dramatic sunsets, turquoise blue water, palm trees and coral reefs, that's what an ideal holiday in paradise seems like.
While a beach holiday is everyone's perfect definition of a vacation, it doesn't have to always come with a hefty price tag. You don't have to travel miles to witness picturesque beaches.
For years, Sri Lanka has been an underrated travel destination due to the civil conflict. However, today, it is re-emerging as a tourist hot spot.
Tourists are flocking in large numbers to the Eastern part of the island country.
While Arugam Bay in the east coast is every surfer's paradise, Kalkudah and Pasikuda Beach are nothing short of beautiful either. These two breath-taking beaches are walking distance from each other and boast of glorious stretches of sand, shallow waters and magnificent palm trees.
If you want to kick back in style, away from the hustle-bustle, in a calm and tranquil setting, Kalkudah & Passekudah Beach in Sri Lanka have to be on your travel bucket list.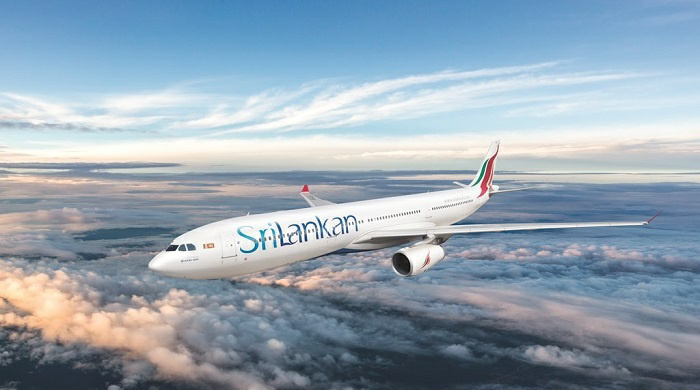 Getting There
Passekudah, meaning 'green-algae bay' is situated in the Eastern seaboard of Sri Lanka between Kalkudah and the Indian Ocean, approximately 35 kilometres from Batticaloa Town.
From the commercial capital, Colombo, it is about 300 kilometres. There are three ways to get there: air, rail and road.
The nearest airport to Pasikudah is Batticaloa Airport, which has scheduled flights operating from Colombo Bandaranaike International Airport.
This is the more expensive option, but the fastest one. The flying time from Colombo to Batticaloa is 1 hour 15 minutes. A flight ticket should cost you about $260.
Also Read: About Sri Lanka Visa services
If you're on a budget, opt for the train. It takes approximately 8 hours to reach Batticaloa and costs only $22.
If witnessing the scenic beauty of Sri Lanka is on your list, opt for a road trip. The roads to PassiKudah are beautiful. From Colombo Airport, it takes about 4 hours 40 minutes via A11 to Passikudah Bay and should cost you anywhere between $110 and $125.

Best time to visit
The best time to enjoy both the beaches is March through October. During this time, the sun shines brightly and is ideal for sun and sea bathing.
The water is warm and the waves are calm. The summer months of April and May bring out the best of the East coast beaches of Sri Lanka.
November through February tends to be rainy, and the sea is on the rougher side too. A peculiar thing is that the tropical island is never cold at the coast.
Accommodation
Passekudah and KalKudah Beach in Sri Lanka have a relaxed atmosphere. Most of the exclusive beach hotels are up-market and boutique style properties.
The largest beach hotel at Pasikudah is the five star Centara Pasikuda Resort and Spa, with 125 rooms.
For honeymooners and families, Uga Bay by Uga Escapes, Sun Aqua Pasikudah, The Calm Resort and Spa, Anantaya Resort and Spa and Amaya Beach Resort and Spa are fitting options.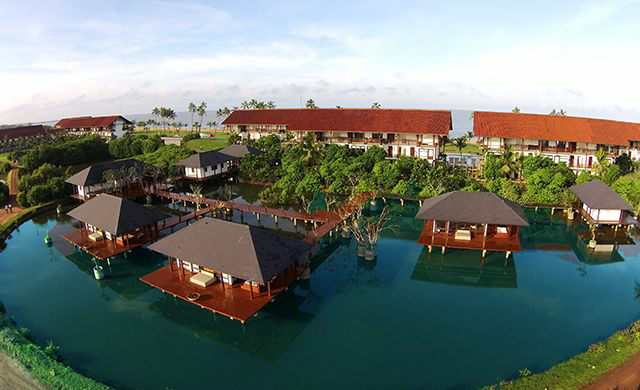 A night for two at any of these properties should cost anywhere between $120 and $200.
However, if you're a solo traveller or group of friends, budget-friendly options are available too. Kayjay Beach House, Amanda Beach Resort and Passi Villas are traveller favourites too.
Language and Currency
Unlike the rest of the island, the east coast has a very different feel to it. The population is predominantly people from Tamil origin.
The languages spoken include Tamil, Sinhalese and English. Passekudah Bay and Kalkudah have an arid feel to it which makes it blissfully deserted and untouched.
The currencies accepted include Sri Lankan Rupee (LKR) and U.S Dollar.
Things to do/Places to Visit
Talking about tourist attractions on the East coast of Sri Lanka, there are plenty that is a treat for those with an adventurist spirit.
Water Sports: If you're a water baby and enjoy snorkeling, scuba diving, windsurfing, skiing, and deep-sea diving, Paseekudah and Kulkudah are your go-to beaches. Whether you're a seasoned water sportsman or a first-timer, there are plenty of guides to assist you on your water adventure.
Batticaloa lighthouse: Built by the British in 1913, the Batticaloa lighthouse is 28 meters high and has the Indian Ocean and lagoon flanked on either side of it. The area around the lighthouse is a testament to the colonial heritage and architecture.
Coconut Cultural Park: Unlike the rest of Sri Lanka, Kalkudah Beach has Palmyrah trees rather than coconut palms. The Coconut Cultural Park is a must-visit when in Kalkudah. After purchasing an entry ticket, the guide takes you around the coconut farm, demonstrates how oil is extracted, coir is separated and ropes are made. Also, don't miss their homemade coconut ice cream. It's a local favorite.
Palmyrah Handicraft Outlets: At the Palmyrah Handicraft outlet, you'll be greeted with colorful handicrafts and souvenirs that you can take back home. Every item available at this outlet is eco-friendly and is made from organic. The government-run center was opened to support the villagers and their families.
Kallady Beach: Another hidden gem on the east coast is Kallady Beach. Go there during sunset, and you'll never want to come back. If you're lucky, you may spot fishermen hauling in their daily catch too.
Kokkadicholai Hindu Temple: There's nothing more beautiful than visiting an ancient Hindu temple on a vacation. This enchanting temple has legends surrounding the shrine. On auspicious days, devotees from across the country pay homage here.
Local Excursions from Passekudah Bay and Kalkudah Beach
When you travel so far to these untouched beaches, the local excursions are hard to miss. Plan an extra day only to do one of the below excursions. They're worthwhile.
Minneriya National Park: Minneriya National Park is about 80 kilometers from Pasikudah. It is one of the most popular tourist attractions and wildlife sanctuaries in Sri Lanka. Wild elephants are prominent residents here. During the season, you can also spot other endemic species. A typical day safari includes a jeep ride, professional jeep driver, park entrance fee and hotel pick up and drop. The safari price for two adults is $110.

Whale watching at Trincomalee: When in Pasikuda, do not miss Trincomalee. It is about an hour's drive. Visitors can enjoy a great opportunity to witness whales and dolphins dance and play in the sea. The best season for whale watching is between March to August every year. You may spot Blue Whales, Sperm Whales and Spinner Dolphins.
Polonnaruwa: If historic adventures and architecture are on your bucket list, head to Polonnaruwa for their archaeological excursions. It is one of the major heritage sites of the ancient kingdom and is only one hour 20 minutes by road (68.2km) from Passekudah Bay. The ancient city is open to visitors to explore royal palaces, statues, gardens, temples and many other religious buildings.
The Swami Rock Temple: This mystical temple is located on a headland at the far end of the Trincomalee Fort. The crowd mostly comprises of Hindu pilgrims. From the extreme top of the rock, you can witness exquisite views of the harbor and sea that lies down 300 feet below.
Where to Eat?
The best kinds of holidays are those which have some lip-smacking food in it. Sri Lanka is heaven for food lovers. Whether it's the Chilli Fish Curry, Sri Lankan Dhal or Seafood, get ready to be spoilt with choice.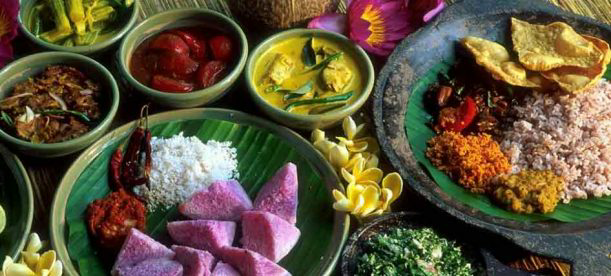 These local favourites are available throughout the island. An average Sri Lankan meal for two would be anywhere between $20 and $25.
Also Read: Sri Lanka Travel-An experience like none
When visiting Kalkudah & passekudah Beach, make a visit to these restaurants:
Nandawanam Guest House: This beautiful guest house in Paasikudah offers eastern and western breakfast, lunch and dinner options. They serve the best rice and curry in town. If you don't want to try something new, and want to stick to your western choices, you can go in for their choice of salads, soups, sandwiches, and pasta too. If you're a group of 10 or more, they'll happily set up a barbecue for you!
Amaya Beach Café: This gorgeous café is located inside Amaya Beach Resort. Though it is on the pricier side, they offer some wonderfully plated Sri Lankan meals. They also have good selections of wines.
Amethyst Beach Bar: Unlike other beaches in Sri Lanka, Kalkudah & passekudah Beach are more on the quieter side, and hence you won't' find many beach bars. However, Amethyst Beach Bar should be on your list. They serve local as well as western options. While the food served is of top quality, it is light on the pocket too.
Handy Travel Tips
Before traveling to a foreign country, always learn as much as you can about the country in order to make the most of it. We're sharing some useful travel tips that will come handy throughout your stay at this picturesque island.
Cameras: Always ask for permission before taking pictures at sightseeing spots. Do not photograph Buddhist monks. Taking pictures at most religious places is taboo.
Clothing: When you pack, remember it is going to be hot and humid. Take t-shirts, tank tops, shorts, and dresses on a day-to-day basis. When on the beach, a swimsuit or two-piece bikini is considered acceptable. Topless sunbathing is illegal throughout the island. If you plan to swim in the sea, always seek local advice. During your visit to temples and religious places, make sure your knees and shoulders are covered. If you are wearing a hat, keep it off your head till you are done, as a sign of respect.
Food and drink: Remember, rice and curry is the staple food in Sri Lanka. However, a large number of international options are available throughout the island. In terms of drink, tender coconut water is available at every nook and corner. If you do plan to indulge in any alcoholic beverages, drink as per your capacity.
Cultural differences: Every country is different in its own unique way. Sri Lankans are renowned for their general hospitality towards tourists. Try not to get into the bad books of people. Respect Buddhist faith and monks, in particular, do not pose for pictures with Buddhist statues, if you have a Buddha tattoo, hide it, and remove your shoes and socks when entering temples. Read as much as you can on the internet regarding local rules and values.
Smoking: Smoking in public places is banned. Most restaurants, pubs, and cafes have designated smoking zones. Consumption of any illegal substance is strictly prohibited.
Environmental responsibility: The people in Sri Lanka pay immense emphasis on water conservation. Avoid excessive use of water wherever possible. Electricity conservation is essential too. In general, use resources responsibly and reduce the stress on the environment during your stay.
Transport: The following modes of transport are available throughout the island: Tuk-tuk, taxi, bus, car, train, bicycle, scooters, motorbikes, helicopters and sea planes.
Untouched by modernity, Kalkudah & Passekudah Beach in Sri Lanka should be your next travel escapade. The sheer beauty of the cobalt waters and cool breeze will engulf you and put you in a tropical state of mind.
Found this blog useful? Like, comment and share!
Article Sources:
Image Source: Google