The tiny teardrop island in the Indian ocean has, for decades, lured in travelers from across the globe. Bustling cities with hospitable people make your stay even more memorable.
Sri Lanka's tourism is divided into three different categories – beaches, cultural cities, and nature reserves. The small island nation is abundant in all these categories. Amongst the few historically rich reserves in Sri Lanka, the Gal Oya National Park is famed for its flora and fauna.
Nestled in the heart of Sri Lanka, Gal Oya National Park is truly one of the country's hidden gems boasting of elephants, leopards, and birds. In this post, we delve into some of the essential facets of the Gal Oya National Park.
Created in 1945 by the Gal Oya Development Board, the national park was built to secure the catchment area of Sri Lanka's largest reservoir, Senanayake Samudraya. It was then handed over to the Department of Wildlife Conservation in 1965.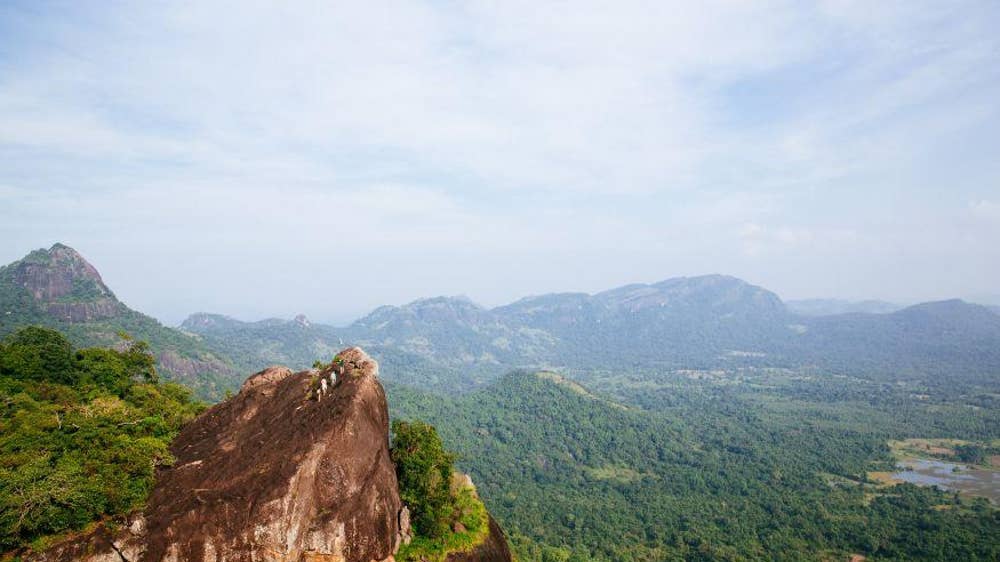 Situated in the south-east corner of Sri Lanka, Gal Oya National Park is spread over 25,000 hectares of evergreen forest. Often touted as the least-visited of national parks, Gal Oya is home to a herd of elephants that are seen throughout the year.
Gal Oya is 376 km Northeast from Colombo in Badulla District, with part of the park stretching into nearby Ampara District. We state our reasons.
Gal Oya National Park's elevation varies from 30 meters to almost 900 meters and has a few of the highest peaks like Danigala, Nilgala, and Ulpotha. Furthermore, this region receives rain during the North-eastern monsoon with annual rainfall averaging 1700 millimeters (roughly about 66.93 inches).
Must Read: Minneriya National Park – A Close Encounter with Elephants
Accessing the Gal Oya National Park
There are various modes of accessing the national park – crossing the Senanayake Samudraya by boat from Inginiyagala is one such alternative.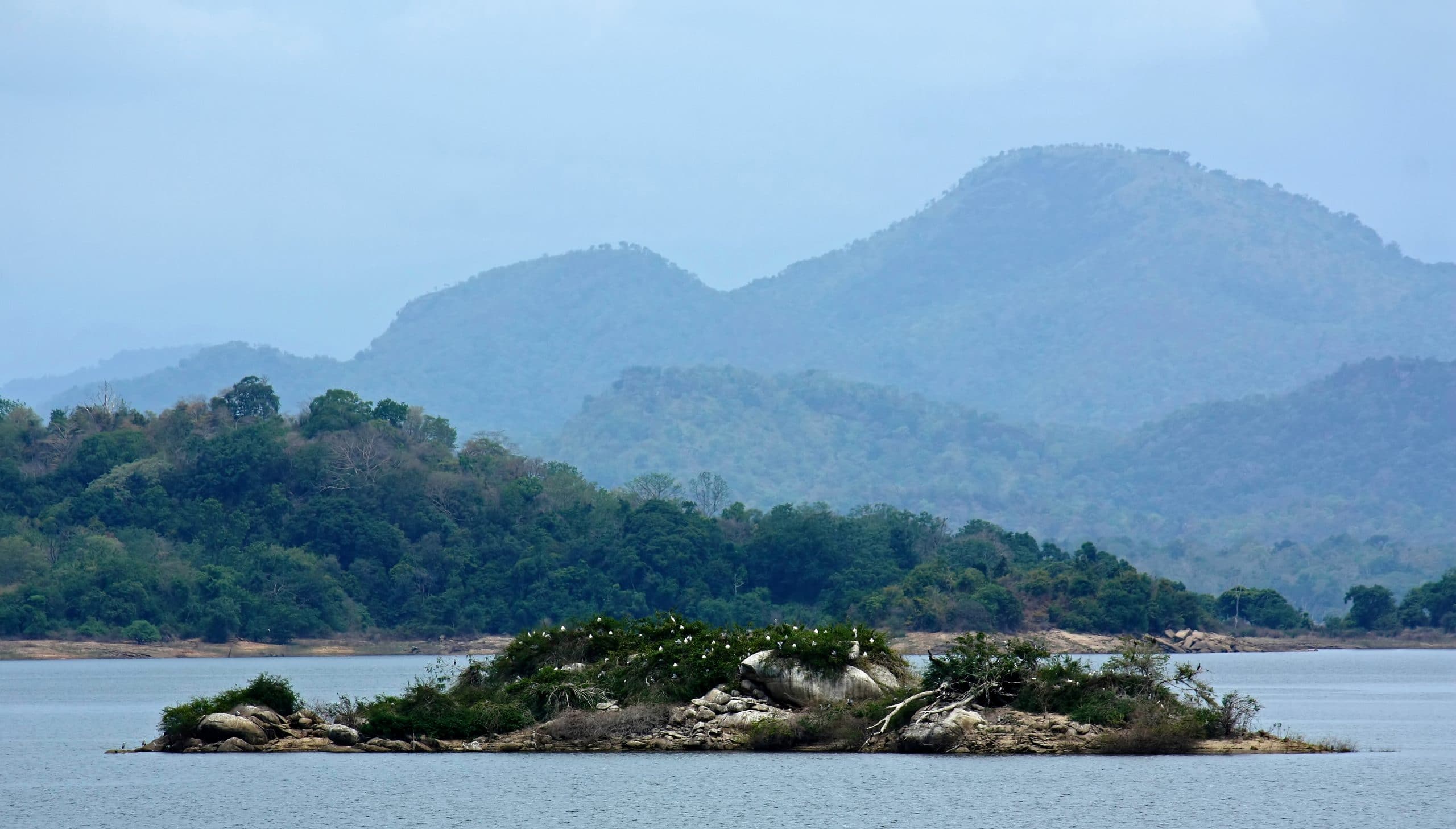 The park is recognized for its boat safaris managed by the Wildlife Department. Halfway through on Monaragala – Arugam Bay road, you can leverage boat safari services at Siyambalanduwa.
Boat safari can be a wondrous experience around 6 in the morning and 3 pm, as you might not be in the scorching heat.
Birds at Gal Oya National Park
The Gal Oya National Park is a place to be if you are an ardent observer of birds or love the idea of bird-watching in the woods.
Gal Oya consists of about 150 different species of birds, which fly over the park all around the year. Some of the resident birds seen at the national park include the lesser adjutant, spot-billed Pelican, and Red-faced Malkoha.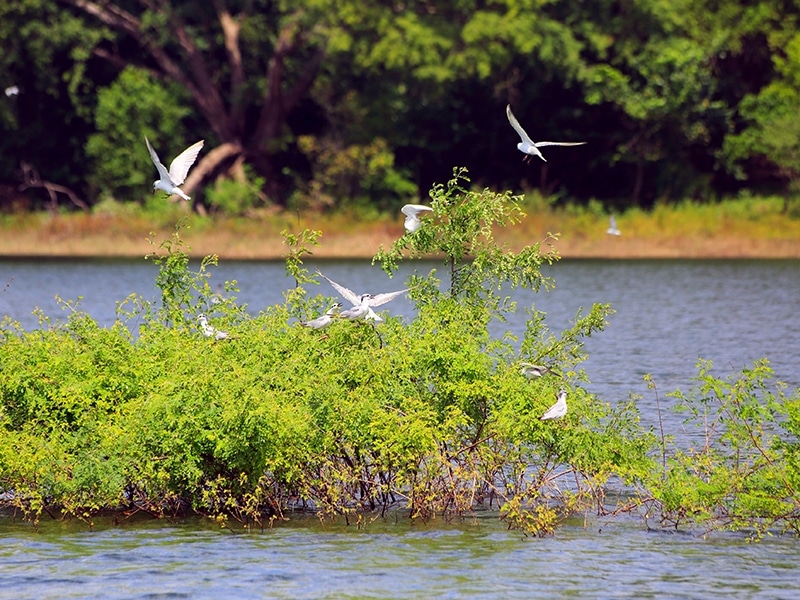 Also, the national park accommodates water birds like the Indian cormorant, Oriental darter, Grey Heron, and Lesser Whistling Duck. Besides, some of the noteworthy raptors easily seen in this park are white-bellied sea eagle and grey-headed fish eagle.
What's more, it's also said that butterfly species like the endemic lesser albatross inhabit the park.
Gal Oya's Wildlife
Although the park's mammal population is significantly lesser in comparison to the birds, you can easily spot a few strolling around. To date, Gal Oya National park has recorded 32 species of terrestrial mammals.
Some of the notable mammals include Common Langur, endemic Toque Macaque, Leopard, Sloth bear, Elephant, Wild Boar, Water Buffalo, and three distinct species of deer.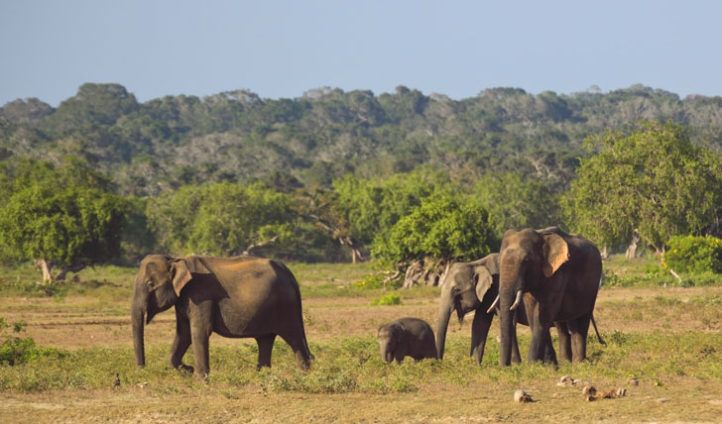 Elephants are easy to spot and capture your attention as there will be herds of elephants swimming between the island in the Senanayaka Reservoir. This humongous creature is considered as the most active swimmers.
Also, the mugger crocodile and star tortoise are amongst the reptile species of the park found swimming across the reservoir.
Also Read:  Yala National Park
Flora in Gal Oya National Park
Gal Oya is the paradise of flora and is bifurcated into three types – forest, shrub, and grassland. Almost 45% of Gal Oya is occupied by lush evergreen forest, while 33% area is of Savannah grasslands.
Gal Oya has a decent share of rare plants that are widely utilized as herbal medicine. Few of these plants are Pterocarpus marsupium, Careya Arborea, and Cassia fistula.
Safari at Gal Oya National Park
Gala Oya offers an overwhelming experience with the long jeep drives around the national park in the mornings and evenings.
To get bedazzled by the beauty of this park, we suggest you also take boat safaris. Traversing with a boat will get you to an island within the reservoir called the "Bird Island," which is overcrowded with a flock of birds.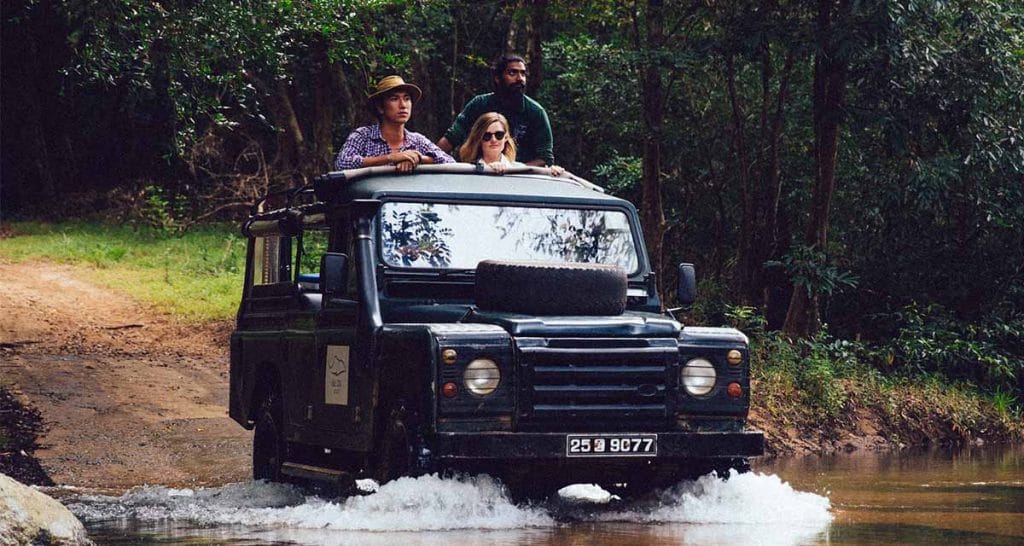 There are two routes with Jeep safaris – 5 km and 13 km. Both ways offer you an unobstructed view of elephants and leopards.The ideal time to visit the Gal Oya National Park is between March and July.
It is during the period when you witness the spectacle of herds of elephants swimming in the vast Senanayaka Samudra reservoir.
Ways to reach Gal Oya National Park
Entering the Gal Oya National Park is where the real excitement lies. There are many routes you can take to reach the national park. It can be reached from Colombo via Ratnapura, Pelmadulla, Udawalawe, Thanamalwila, Wellaway, Monaragala, and north from Siyambalanduwa to Inginiyagala.
Gal Oya's entrance is 20 km west from Ampara at Inginiyagala. Conveniently, Ampara can be reached by domestic flights as well.
Also Read: Know about crocodiles in Sri Lanka
Accommodation around Gal Oya National Park
Currently, the closest of rest houses or bungalows can be found at Inginiyagala and at Eekgal Aru, which is 23 km away from the park. However, we settled ourselves in the Gal Oya Lodge, which is reasonably close to the park. This entire property is enclosed with savannah grassland. We were startled by the neat and rustic rooms.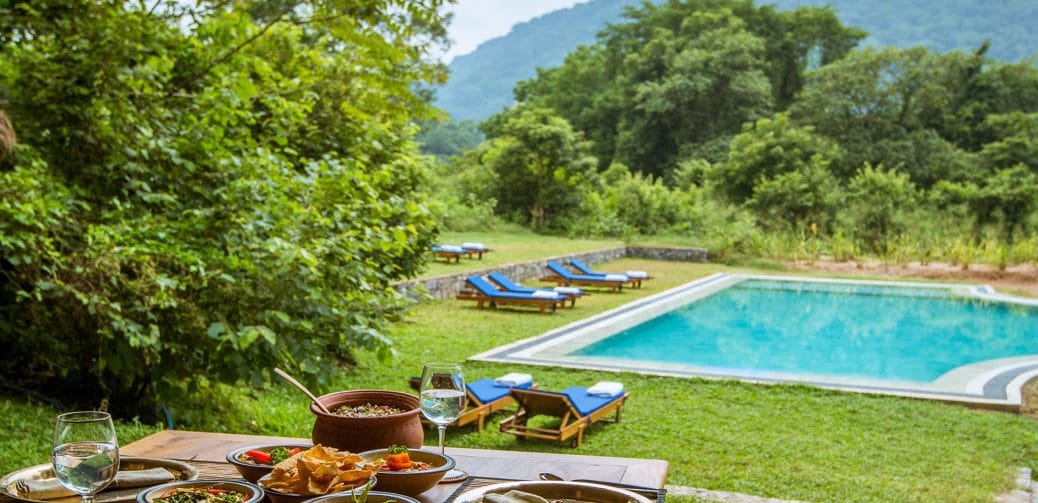 There is more to this lodge than just polished concrete floors and wooden walls. As you venture out of your room, you'll find a central pool giving you a beautiful heart-stopping view. And relinquish yourself in the jaw-dropping view of the mountain backdrop.
Threats to the Gal Oya National Park
With Gal Oya haunted by activities such as Illegal logging, 30 acres of the forest has been eliminated. Out of all the damage done to the park, the smuggling of medicinal plants has been recorded the most number of times. It is believed that lack of ranger staff has made it difficult to prevent such hideous crimes.
The Department of Wildlife Conservation had come under criticism when it failed to send a veterinary surgeon to attend an injured elephant.
Why visit the Gal Oya National Park?
There are only a few places where you can catch a glimpse of Asian elephants living in tranquility. And Gala Oya is among those few places.
Gal Oya is lesser known by tourists, hence this place is a getaway if you are in quest of some "into the wild" experiences. With spellbinding views of towering mountains and scenic lake, photographers tout this park as million-dollars sight.
Aside from the wilderness and scenic views, the park is a shelter to local indigenous people called the "Veddas." Do yourself a favor and soodle with the Veddas early in the morning to learn more about Gal Oya's history.
Summing-up
Gal Oya is a place of serenity, which oozes calmness and diverts attention from the daily mundane life. With a healthy water body, birds gracing the sky, and a herd of elephants, Gal Oya is worth a visit. We recommend you to visit the park during March and July when elephants come in numbers to bathe.
Do you have an interesting Gal Oya story to share? Write to us in the comments below.