Sri Lanka is infused with ancient culture, the debris of religious relics, beaches, reefs, and some astounding hills. But there is a lot more to it than just this.
The country is blessed with sublime flora and fauna alongside montane forest on national parks across the tiny island nation.
Sri Lanka has a total of four biosphere reserves – Sinharaja Hurulu, Bundala, and Kanneliva. With Bundala's rich history and awe-inspiring wildlife, here is a detailed guide to this vast national park.
Bundala National Park
Located 15km east of the town of Hambantota, Bundala National Park has lured locals and globetrotters with its exquisite range of wildlife.
This national park offers solace for anyone in search of it. Although, not that significant when compared to the Yala National Park, Bundala should find a place in your itinerary.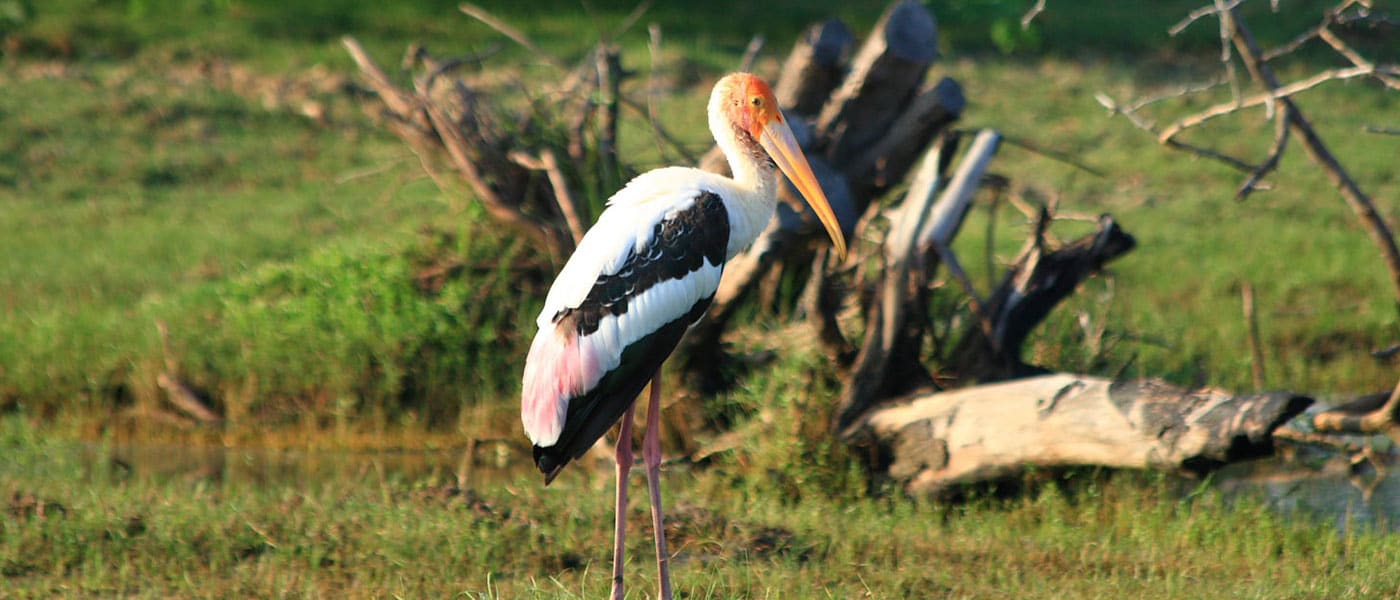 In 1991, the national park had become the first-ever wetland in Sri Lanka, which was declared as a Ramsar site. According to Wikipedia, a Ramsar wetland site is classified as of international importance under the Ramsar Convention.
Accommodating close to about 197 species of migratory waterbirds, Bundala National Park was declared a biosphere reserve by UNESCO in 2005.
So without further ado, let us share with you a few pieces of information about this not-so celebrated wetland of Sri Lanka.
Declared as a wildlife sanctuary in 1969, Bundala National Park was promoted to a national park on the 4th of January 1993. Initially, the national park stretched about 6,216 hectares, which later reduced to 3698 hectares in 2004.
Bundala National Park: Things to See
The national park boasts of birds and mammals, which are a treat to watch for visitors arriving between September and March. Sheltering about 32 diverse species, this national park is a haven to five endangered mammals.
That being said, the mammals that garner massive spotlight are Sambar(Southeast Asian deer), Fishing cat, Jackal, Wild boar, Toque Macaque, Sri Lankan leopard, and many more.
The aforementioned species belong to the list of 324 species of vertebrates, comprising of 197 birds, 32 mammals, 48 reptiles, and 15 amphibians. To broaden this list, there are over 52 species of butterflies that certainly create a lasting impression on a visitor.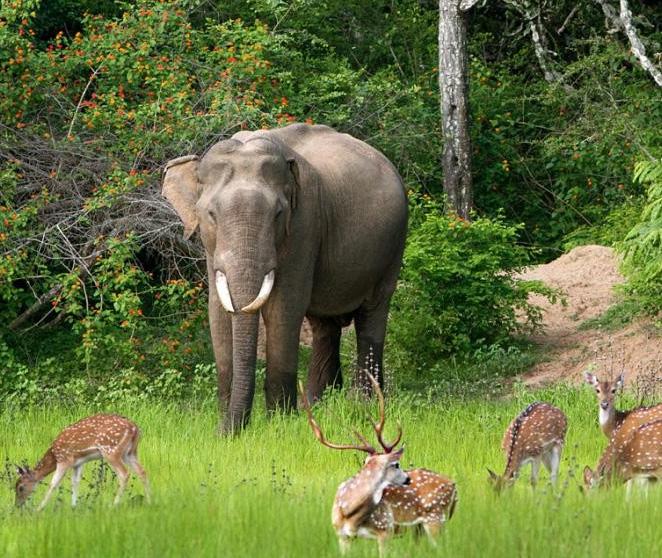 Bundala's flora is also nothing less short of significant either. The national park comprises of 383 plants belonging to a total of 90 families. Out of the 383, six are endemic species, and seven are nationally threatened. The park's lagoon is home to Hydrilla, which is visible with a shade of blue-green algae on it. This easily overshadows Oscillatoria, Nostoc, and Macrocystis.
Bundala consists of trees like Manilkara hexandra, Salvadora persica, and Drypetes sepiaria, Bauhinia racemosa, Azadirachta indica, & Chloroxylon swietenia. Also, featuring a few salt-tolerant plants such as Halosarcia indica and salicornia.
Also Read: Gal Oya National Park
Reptiles and Amphibians at Bundala
With over 15 amphibious species and 48 reptiles, Bundala is fused with crocodiles like estuarine and mugger. Interestingly, the estuarine crocodile is the largest crocodile existing on this planet. Whilst visiting this park, you'll find enormous crocodiles weighing around 1200 kgs.
Must Watch Video
Alongside these gargantuan-sized crocodiles, there resides star tortoises, rat snakes, pythons, whip snakes, and endemic flying snakes. Between October and January, Sri Lanka's four marine turtle species come ashore to breed. During the nights, visits on the beach become even more memorable when these turtles start laying eggs.
Birds at Bundala
Bird watching is more famous in Sri Lanka, which is a paradise of inherent birds. Due to favorable climatic conditions, birds of different species take refuge in the country's national parks. And Bundala National Park is one of those parks which is a haven to numerous birds.
Of all the quaint views offered by the Bundala National Park, watching birds is genuinely one of the mesmerizing activities. Including nearly 200 species of birds, out of which 58 are migratory birds.
During September and March, migrants such as Marsh and Curlew Sandpiper, Curlew and Greenshank Golden and Kentish Plover, Large, and Lesser Sand Plover visit the Bundala National Park. The most famous and observable bird is the Great Flamingo, which has outnumbered broad-billed Sandpiper and Red-necked Phalarope.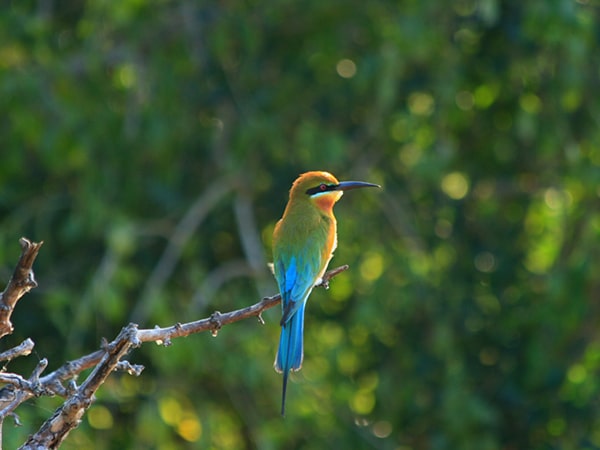 Bundala's lagoons has lured in a range of aquatic birds, some of which are ibis, pelicans, painted storks, teals, egrets, and spoonbills. Including few endemic birds like the Brown-capped Babbler, Sri Lanka Woodshrike and Junglefowl.
There is diversity in species of birds and mammals, which draws visitors in large numbers throughout the year.
Bundala: Getting In
Bundala is considered as a better alternative to the Yala National Park, which is overcrowded with people who wait in a queue to get a glimpse of giant elephants.
To enjoy the atmosphere of this national park, you need to spend about 5000 Sri Lankan Rupees (roughly about USD 27) for a safari tour of two passengers. This safari tour includes a jeep and a guide.
There are a variety of options when taking a detour of the park, with few options taking you to the hidden temples, while some packages bundles with accommodation and tour.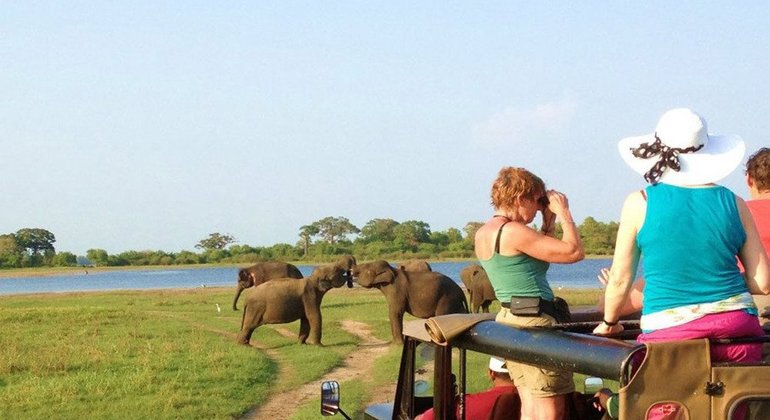 Bundala National Park is loaded with a handful of options when it comes to accommodation. There is a space for anyone irrespective of their budget. Bundala's exciting staying options include – camping-like hotels lade with hot showers and mosquito nets.
Some accommodations might want you to walk a bit or share a ride, solely because of the vastness of the area. Albeit, the entire trip to the park is in itself a journey of sheer delight, offering a chance for you to witness the wilderness and coasts. With a multitude of accommodations around the park, you will never be short of information and local guides.
Also Read: Minneriya National Park
Ways to reach Bundala National Park
Bundala National Park is not accessible by bus or train; therefore, we recommend hiring a private car. Here are some of the ways you can reach the national park:
From Colombo, there are about three different routes – towards the coast through Galle, Matara, Tangalle, Hambantota. Another course is by advancing through Ratnapura, Pelmadulla, Embilipitiya, and Hambantota.
Also, the national park is easily accessible by taking the Southern Expressway. Take the Galle expressway and traverse through Matara and Tangaelle. Based on our travel experience, it takes about four or five hours to reach the park from Colombo.
Furthermore, you can use a cab service from Colombo (Peliyagoda) to reach Hambantota first. Upon entering Hambantota, you can hire a car or helicopter to reach the national park.
Distance from popular locations
Colombo – 263 km
Kandy – 232 km
Bentota – 190 km
Conservation Measures at Bundala National Park
The CEA conservation management plan and IUCN's (International Union for Conservation of Nature) biodiversity assessment report have shared management initiatives for the national park.
The proposed measures include re-demarcation of the park's boundary, moving inhabitants living in the park, controlling the spread of invasive alien plants, establishing irrigation structures to prevent flowing of irrigation water, and management of livestock grazing.
Why visit Bundala National Park?
If you are keen on catching a glimpse of birds, elephants, and leopards.
Unlike Udawale or Yala, Bundala is much calmer and offers close views of flora and fauna.
Summing-up
Considered as the tear-drop of the Indian Ocean, Sri Lanka is vivacious and vibrant too. One of the reasons being the Bundala National Park, which surely after reading this post, shouldn't be missed.
We suggest you to take a detour of the park between September and March when large flocks of birds visit. To get the most out of this trip, take a safari trip and discover the serenity of this national park. Also, carry your binoculars for unobstructed views of birds.
If there's something you'd love to share or have a story while visiting the place, feel free to write to us in the comments section below.