If the crystal clear beaches, tropical climate, delicious food, and stunning landscape aren't good enough reasons to convince you to hop on a plane to Sri Lanka, then you must consider getting up-close with the amazing wildlife that this little island in the Indian Ocean has to offer.
Did you know? Asian elephants are among the few remaining mega-herbivores in the world and are the most loved in Sri Lanka.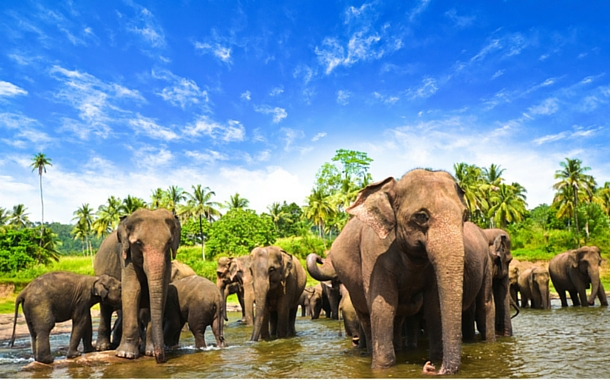 The Sri Lankan elephant is one of the three recognized subspecies of the Asian elephant and is native to the country. Despite being a tiny island, Sri Lanka rates high in terms of biodiversity and is considered the top biodiversity hotspots in the world.
So the next time you make a trip to this beautiful island, an elephant safari should be on your bucket list.
Imagine waking up to 200 wild elephants in Sri Lanka, bathing and grazing in their natural habit. How about getting breakfast with the elephants? The thought itself is so exciting.
To see elephants pass through tall grass, you don't have to go as far as Africa. Sri Lanka is rated one of the best places in the world to experience the big-eared mammals roaming freely which is truly a sight to see. Close to 6,000 elephants call the island their home and you'll find them marching across grasslands and bathing in rivers.
Whether you're an animal lover, are on a research project or simply want to spot an elephant for that perfect Instagram picture, a trip to the island is incomplete without a safari.
While there are many choices to see elephants not all are the best choices. The word 'safari' is enough to scare people. Not because the animals are wild, but because the ticket prices are so high. The entry fee into a national park literally burns a hole in the pocket.
And, if you are a traveler on a budget, you're really not in for this kind of expenditure. Most people tend to forgo their desire to witness wildlife for this aspect. However, what if we told you that you can wake up to elephants in Sri Lanka for less than $50 (9,000 LKR)?
Over 15 national parks host wild elephants in Sri Lanka.
If you really want to see elephants on your next trip to Sri Lanka, consider visiting a national park and not an orphanage. Thanks to social media, Pinnawala Elephant Orphanage has been in the limelight.
The beautiful photos doing the rounds on Facebook and Instagram by influencers make one want to immediately leave everything and set out on a wildlife escapade. However, the reality is far from beautiful.
The heart-breaking experience about Pinnawala is that the local guides chain the elephant's foot to a ring attached to a rock. The torture the baby elephants face is sad to another level. They're beaten with sticks only to serve as a tourist attraction. Pretty sad, isn't it?
Well, if you really want to experience these majestic animals in all their glory, visit a national park instead. It is definitely a rewarding experience for a wildlife enthusiast since you'll get to see a large number of elephants roaming freely in large numbers.
In this blog, we'll take you through some of the best options where you can witness these gigantic animals for less than $50.
Udawalawe National Park
Declared a national park in 1972, Udawalawe is a stark, open landscape that comprises a herd of 400-500 elephants roaming free. If you are planning a visit to the Southern Province of Sri Lanka, Udawalawe is the place to be at. You can be guaranteed of elephant sightings. Also, it is typically less crowded compared to other national parks on the island.
The best way to see them is on a safari-style jeep tour in the company of a knowledgeable guide who will talk to you about the endangered creatures along the way. The best time to visit Udawalawe National Park is November to April when rainfall is less, the grass is lower and the elephants venture out for most parts of the day. There are several options to get here from Colombo.
Entrance fee to Udawalawe National Park is $15 per person for a day visit and $30 for an overnight visit.
There is also an orphanage (Elephant Transit Home) nearby which takes care of elephants that have been injured or abandoned.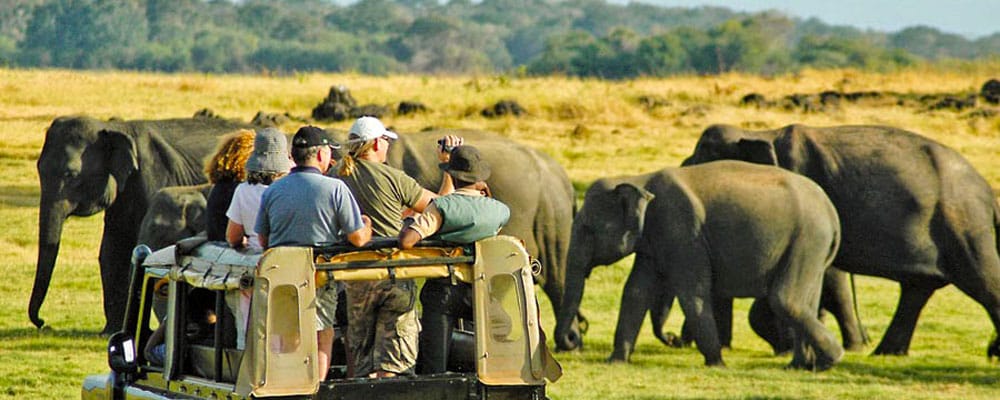 Yala National Park
Compared to Udawalawe, Yala is the most-visited national park. It has a huge variety of wildlife. Think monkeys, crocodiles, sloth bears, leopards, buffaloes and elephants, and you'll see them all. Stunning forests, tall grasslands and lagoons are the things you can expect to see at Yala National Park.
The best time to visit during the day is early in the morning preferably before sunrise. Besides elephants, Yala is home to the biggest population of wild leopards in the world.
Since Yala is extremely popular with tourists, it tends to get crowded which can totally ruin the whole experience. However, if you visit during the off-season, you can have some great sightings.
The entry fee for foreigners is $15 for one day and $30 for two days.
The cost to hire a jeep with a local guide is $30. For the whole day, it would cost about $50. A luxury jeep would, however, cost $100. There are a whole lot of lodging options available too under a budget.
The best time to visit Yala National Park is during the dry season – February to June. Remember, the park closes for 6-8 weeks each year in the month of September, for maintenance. Hence, if you do happen to be in Sri Lanka during this period, visit Udawalawe since it is just a few hours' drives from each other.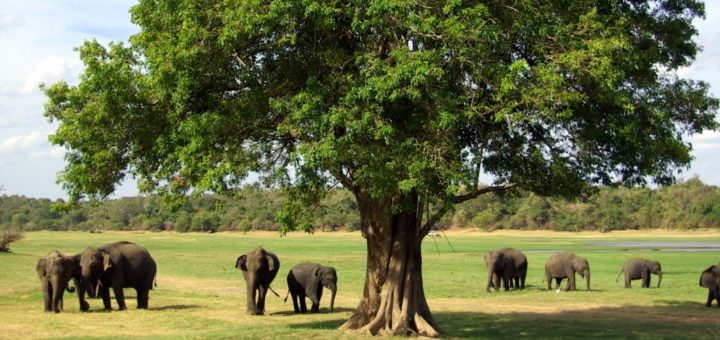 Minneriya National Park
During the dry season of Sri Lanka, Minneriya National Park is the place to be. From May until November hundreds of elephants migrate to the shores. The event is usually referred to as 'The Gathering'.
Watching them cross to an ancient reservoir there is a spectacle you cannot miss. You may be even lucky to watch them sunbathe, and drink and spray water on each other. You can call it an elephant pool party.
If you do plan a visit to Minneriya National Park, you will have to reach Sigiriya. From Sigiriya, it is about 34 kilometers. Since the best time of the day to see these incredible creatures is sunrise, you will have to stay a night in Sigiriya area or Habarana.
There are a large number of homestays that would cost about $10-15 a night. This option works wonders for those on a budget. However, if you really want to splurge, there are a few expensive options as well. Compared to other elephant national parks in Sri Lanka, Minneriya is the most expensive.
The jeep safari costs about $25.
If you have no group and are traveling solo, you can always partner with another group and share costs.
They have two jeep safaris running – one in the morning at 7 am and the other at about 3:30 pm in the afternoon. Visiting during either of the periods gives you stunning views.
The duration of the tour is about 2 – 2.5 hours. As you draw closer to water bodies, be prepared to see herds of elephants. Though you are not allowed to get down from the jeep, you'll definitely get to soak into the serenity of the place and get some great clicks.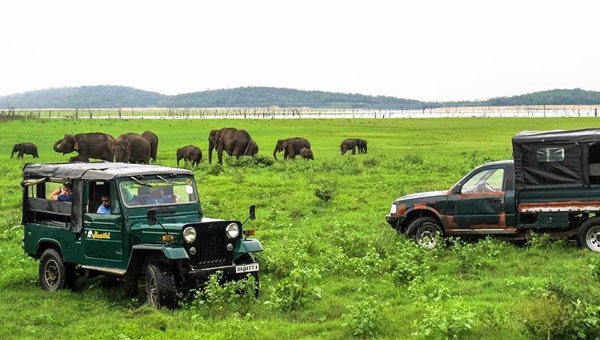 Kaudulla National Park
Kaudulla National Park is located 197 kilometers from Sri Lanka. Though it is the least popular national parks, it does get its fair share of tourists. Kaudulla is part of the elephant corridor between Minneriya and Wasgomuwa National Park. The best time to visit Kaudulla is between July and December.
Since Kaudulla is less popular compared to other national parks in Sri Lanka, the number of jeeps are minimal. Besides elephants, you'll spot wild buffalo, monkeys, peacocks and a whole lot of colorful birdlife around the reservoir. It is definitely a sight to behold.
Whether you are visiting Minneriya or Kaudulla, the closest option to stay would be Habarana. It is 10 kilometers from the form and 20 kilometers from the latter. There is also a couple of lodging options sandwiched between a small patch of the jungle. This means that if you are lucky enough, you may wake up seeing an elephant cross your room for free. However, if a whole day of animal sighting and nature walks is on your list, opt for the safari.
The entrance fee to the park is $12, the price per jeep is $30.
Sri Lanka is home to a large number of national parks, elephant orphanages and sanctuaries. However, the best place to witness wildlife is in their natural habitat. Though reaching these national parks may pose as a challenge, once you are there, you'll be grateful. The expansiveness of nature and the calm will completely engulf you.
A common question asked by most tourists are 'Do companies offer elephant rides'? The answer is NO. When you are on a safari, you are not allowed to step out of the jeep.
There are a few local companies near Pinnawala that offer elephant rides. However today, people consider riding elephants a cruel and unethical practice. The World Animal Protection foundation also claims that half of the elephants are "Cruelly taken from the wild or bred in captivity."
So if you are ready for an elephant safari on your next visit to Sri Lanka, above are some of the best national parks which you can visit under $50. If you have any other useful tips that you would like to share with your fellow travelers, please feel free.
Waking up with herds of elephants is definitely a rewarding and once-in-a-lifetime experience.
Image Source: Google