Minneriya National Park: A Close Encounter with Elephants
Sri Lanka may seem like an island small in size; however, it's huge in terms of wildlife. The variety is amazing. With 92 species of mammals, 242 kinds of butterflies and 107 kinds of fishes, Sri Lanka is one of the best countries in South East Asia to experience animals in the wild.
You may wonder which the best wildlife safari in Sri Lanka is. Well, that's a difficult question as each one is better than the other. Most of the nationals parks in Sri Lanka feature habitats comparable to those in East Africa.
While Udawalawe, Kaudulla and Yala National Park are extremely popular with tourists, another excellent alternative for those who don't like teeming crowds is Minneriya National Park.
Overview
Located 182 kilometers from Colombo, Minneriya National Park is in the North Central Plains of Sri Lanka. The ancient city of Polonnaruwa is the major city located close to the national park. It is also a ten-minute drive east of Habarana. While it's immensely diverse, it is also exceptionally beautiful.
Comprising of steamy wetlands and dry forests, the landscape of the park features an ideal dwelling for a huge array of different animals.
Minneriya is one of the best places in the country to see wild elephants. Since it is located along the Elephant Corridor, a route that connects Kaudulla and Wasgomuwa parks, it witnesses hundreds of majestic and gigantic creatures every year as they migrate in search of sustenance.
The principal attraction here is elephants, and thus the park is recognized for an event referred to as 'The Gathering.' During the dry season (July to November), hundreds of elephants make a trip to the ancient reservoir. The gathering is documented as the most significant known meeting place of Asian Elephants in the world.
Watching the elephants cross to the reservoir is a spectacle you cannot possibly miss. It's like an elephant pool party where these majestic creatures are seen have some fun in the sun and drink and spray water on each other.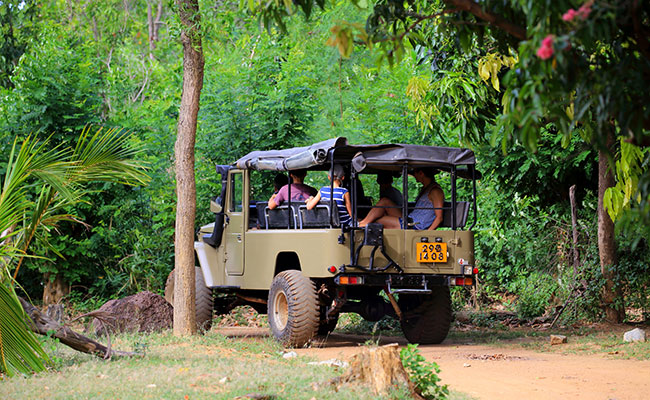 How to Reach Minneriya National Park?
The best part of visiting Sri Lanka is that everything is extremely well-connected. As mentioned earlier, Minneriya is 182 kilometers from the capital. It's about a five and a half hours drive from Colombo.
Minneriya National Park can be reached from Polonnaruwa, Sigiriya, and Habarana. From each of these places, it is 37, 18, and 10 kilometers, respectively. Thus, if breakfast with the elephants is on your list, you can choose to stay at any one of these places and visit the national park at sunrise since it is the best time to witness these incredible creatures. It is also regarded as one of the most accessible national parks in the country.
Since Kadulla is the neighboring national park, you get an experience of both the worlds. The elephants tend to move in herds between the two parks. The best thing is to check with the local guide, which is the best place to go to.
Minneriya National Park is 88.9 square kilometers and comprises of plenty of scrubs, forests, and wetlands while Kadulla Park is 66 square kilometers.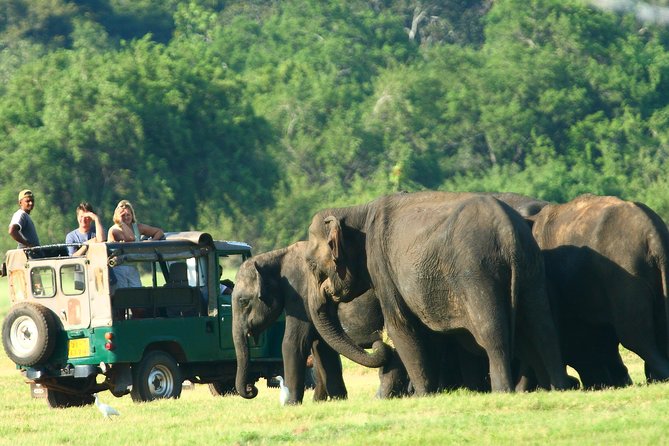 Best Time to Visit
The best time to visit Minneriya National Park is in the dry season from July to October. During this time, the water in the tank would have dried up, thus exposing grasses and shoots to grazing animals. 'The Gathering' is an outstanding spectacle to watch. You'll get to witness at least 300 elephants gathered around the water reservoir.
While sunrise is a great time to visit, you may not spot many elephants. We would recommend visiting the late afternoon when the weather cools a little. Most safaris typically start at 3 pm and end by 6 pm. To see male elephants, you'll have to plan your visit around June and July as this is the mating season. Since the elephants wander between three different parks, there's no guarantee that you can always spot them in large numbers.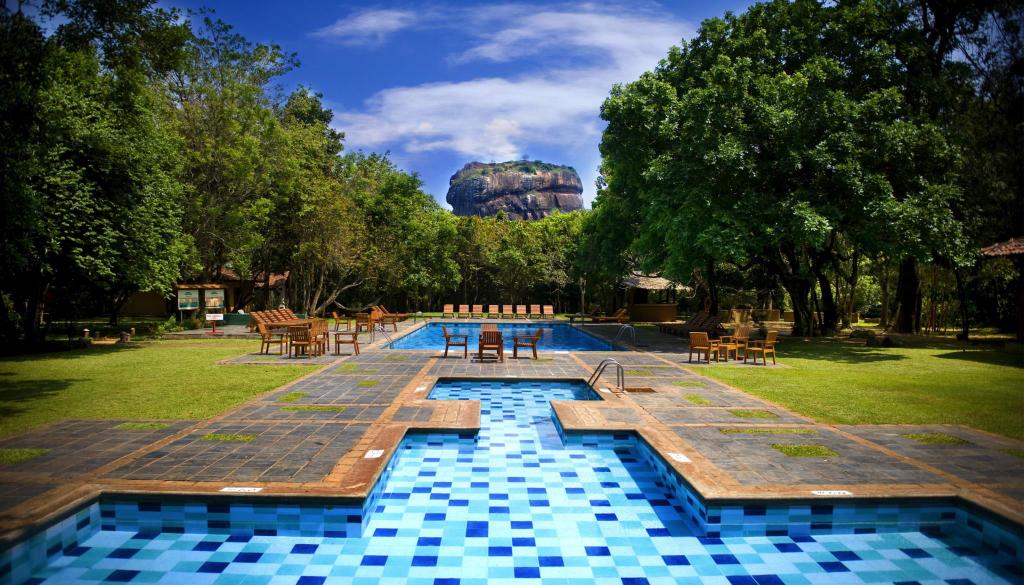 Where to Stay?
While planning your visit to Minneriya National Park, you can choose to stay in Polonnaruwa, Sigiriya, or Habarana. There are a large number of homestays that would cost about $10-15 a night. This option works wonders for those on a budget. However, if you want to splurge, there are a few expensive options as well.
Hotel Sigiriya is an upmarket hotel featuring cozy rooms and great amenities. A night's stay for two would cost US$111.
If you're looking for a more affordable option, we would recommend you stay in Cinnamon Lodge Habarana that costs US$65 per night for two.
In Polonnaruwa, Tishan Holiday Resort is ideal. This is a budget-friendly abode option. The rooms are extremely clean, and the food served is excellent too. It is well-located to explore the Minneriya National Park. There is a swimming pool also. The room tariff starts at US$25.
Entry Fees
The entrance fee to the park is US$15. However, to get around the park, you will still have to organize a jeep. Here, you have two options – either arrange for a jeep yourself or book a tour which includes hotel pickup, entrance fee, safari, and refreshments.
If you arrange for a jeep safari yourself, expect to pay US$25 which excludes the entrance ticket. If you book with a local travel agency in any of the nearby cities, you can expect to pay US$75 per person which includes almost everything. They have two jeep safaris running – one at 7 am and the other at about 3:30 pm. Visiting during either of the periods gives you stunning views.
The duration of the tour is about 2.5 – 3 hours. As you draw closer to water bodies, be prepared to see herds of elephants. Though you are not allowed to get down from the jeep, you'll get to soak into the serenity of the place and get some great clicks.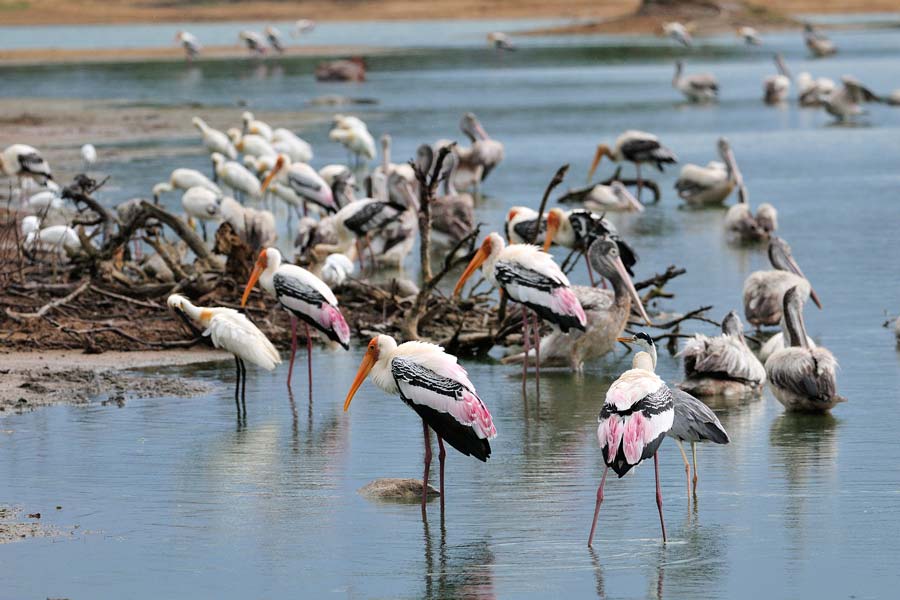 Animals of Minneriya National Park
While the main reason tourists visit, Minneriya is to witness the abundance of elephants up-close. There are a dozens of other animals that call the reserve their home.
In the dense foliage of the forest, you can expect to see sambar deer, wild pig, leopards, monkeys (purple-faced langur and toque macaque), sloth bears and crocodiles.
The national park's faunal species include 24 mammals, 160 birds, nine species of amphibians, 25 reptile species, 26 species of fish and 75 species of butterflies.
While frogs and lizards inhabit the warmer parts, you can expect to see woodpeckers and hornbills resting on the trees. The dramatic landscape of the dense forest also gives you a chance to sight cormorants, painted storks, large pelicans, and herons.
The focal point of Minneriya National Park is the Minneriya Tank that provides hydration to much of the indigenous wildlife. Some of the endemic birds that come here to quench their thirst include the Sri Lankan Jungle Fowl (National Bird of Sri Lanka) and the Sri Lankan Hanging Parrot.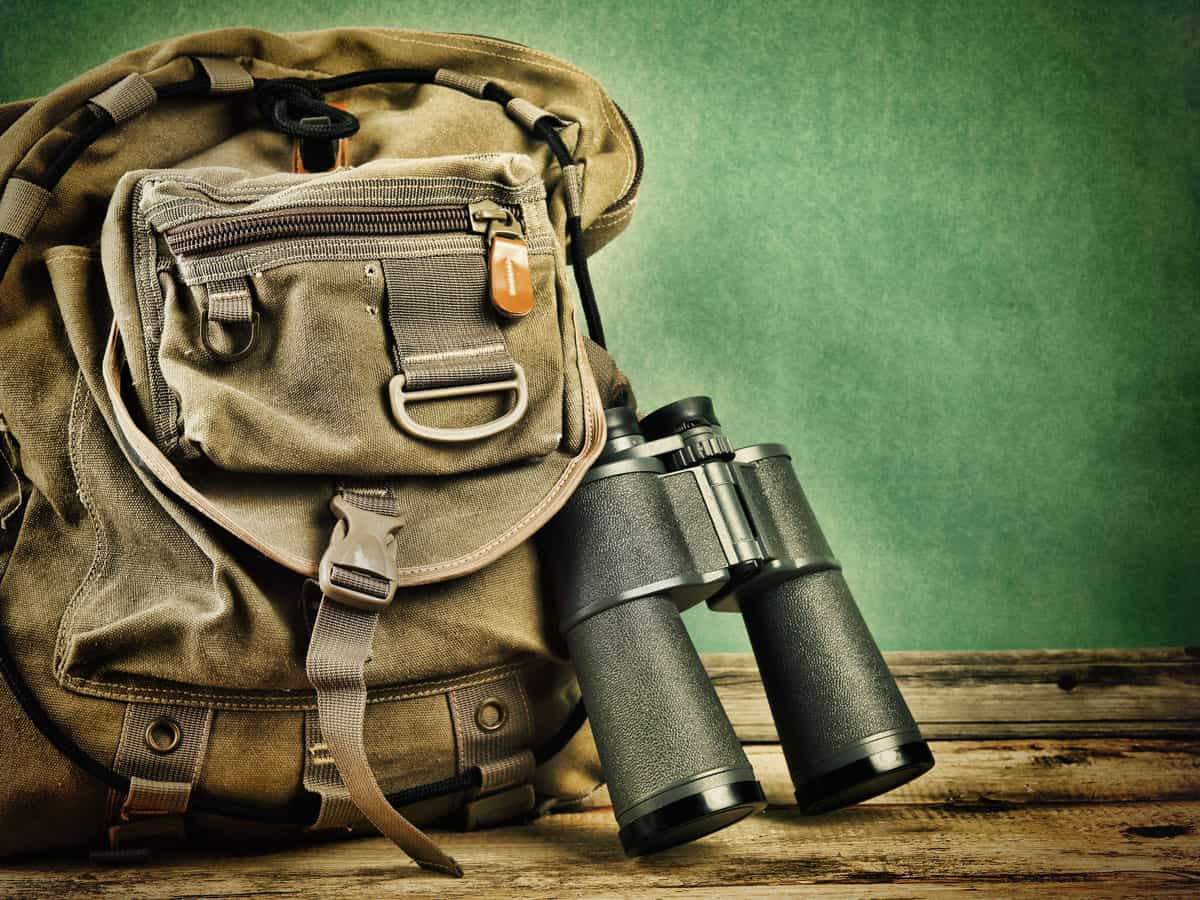 What to Carry for your Safari?
The jeep safari happens in an open-topped vehicle. Thus, there's no escape from the Sri Lankan sun. No matter which slot you plan your safari at, you're bound to be in the sun for extended periods of time. Thus, you'll need to slather sunscreen all over your body and even carry a hat.
Although there's not much walking to do, it can get very hot, and you might get dehydrated. Thus, carry a lot of water. This will make sure you're hydrated throughout the safari.
To get a closer look at the elephants, birds, buffaloes, monkey, and myriad of other creatures that roam freely in the national park, carry a pair of binoculars.
Not to forget, your camera is the main thing. If you're snapping with your phone or digital camera, make sure you don't disturb the peace of the animals.

Code & Conduct during the Safari
No matter what happens, stay in your jeep. Drivers and guides are required to keep a safe distance from the animals. Don't do anything to disrupt the animals. Yelling, throwing things, or playing loud music can land you in a soup.
You need to respect the fact that you're in the animal's natural habitat. Littering is strictly prohibited. Many tourists bribe their jeep drivers to get closer to the animals. Please do not do that.
During peak season, you might even witness an overwhelming amount of jeeps and tourists. However, it's important that you behave like a responsible and respectable traveler at all times.
After your safari, you could spend some time interacting with the local indigenous people – Vedda's.
Whether you're a wildlife aficionado, avid birdwatcher or nature lover, Minneriya National Park will spoil you with its splendid views and unique species. Featuring unfathomably beautiful flora and fauna, it's an experience you'll not get anywhere in the country.
Traveler Tip: Early mornings are generally best for birds and late afternoon for elephants.
Found this blog useful? Like, comment and share!
Image Source: Google