Sri Lanka is a melting pot of cultures. After India, it is said that Sri Lanka has the most number of festivals than any other country.
The myriad of festivals celebrated in the country is a wonderful chance to experience the diverse culture and rich tapestry of the local lifestyle.
While Sinhalese, Tamil New Year and Kandy Esala Perahera are popular festivals native to the region, another religious and cultural festival that is celebrated island-wide is Vesak, the most famous Buddhist Festival of the year.
Also referred to as Buddha Jayanti, Buddha Purnima, and Buddha Day, Vesak is observed by Buddhists all over the world.
The month of May in Sri Lanka not just brings with it the thundering South-West monsoon rains but also marks the commemoration of the birth, enlightenment, and death of Gautama Buddha during Vesak.
It is celebrated on the full moon day in the month of May. However, celebrations continue for about a week. It's the perfect time to see the streets of Colombo come alive.
Almost overnight, laid-back and relaxed Colombo turns into a glamorous and glittery seaside capital.
You'll see nooks and corners of the city dressed in lights, colorful lanterns called Vesak Kudu, which signify the light of Buddha, Dharma and Sangha, pandals (thoranas) and dansals (free food stalls).
Celebration of Vesak in Sri Lanka
Though Vesak is of religious significance for Buddhists all over the world, to Sri Lanka it is what Christmas is to the West. While it is a festival of togetherness and rejoicing the birth and enlightenment of Lord Buddha, it is also a time of reflection on his death.
On Vesak, Buddhist devotees assemble in various temples for the honorable hoisting of the Buddhist flag and the signing of hymns of the holy triple gem: The Buddha, The Dharma (his teachings), and The Sangha (his disciples).
Watch the video fo know more about the festival
Buddhist men and women are usually clad in white and visit the holy temple throughout the Vesak week to participate in traditional ceremonies. Some even spend the entire day in the temple to prove their determination to follow the preaching of Buddha.
Vesak is a sign of sharing peace and joy with people. The sale of alcohol and meat is usually prohibited during the festival.
Vesak: Past to Present
Although festivals like Vesak are century-old traditions, it was only in 1950 that Sri Lanka agreed to celebrate Vesak as Buddha's birthday. Most Buddhist devotees spend time in reflective prayers. The streets across Sri Lanka are decorated in celebration for this important event.
Many activities to are conducted in the temples, including devotional song campaigns, almsgiving, and lighting of Vesak lanterns. Tiny clay coconut oil lamps are also lit across villages in Sri Lanka and major cities including Colombo, Galle, and Kandy.
There are also electrically-lit pandals, also referred to as 'thoranas,' erected in towns of main cities. Welfare and religious groups sponsor most of these. Each pandal illustrates a story from the Jataka tales (550 past life stories of the Buddha). During Vesak, a large crowd of people gathers around the pandals to attentively listen to the story.
Vesak Lanterns/Vesak Kudu
While Vesak Pandals are illuminated and presented beautifully, another visually-stunning spectacle is the colorful lanterns, also referred to as Vesak Kudu that is hung along the streets and in front of houses.
These towering lanterns are made from bamboo frames and covered in colored paper. The lanterns signify the memory of Buddha who delivered Dhamma's message.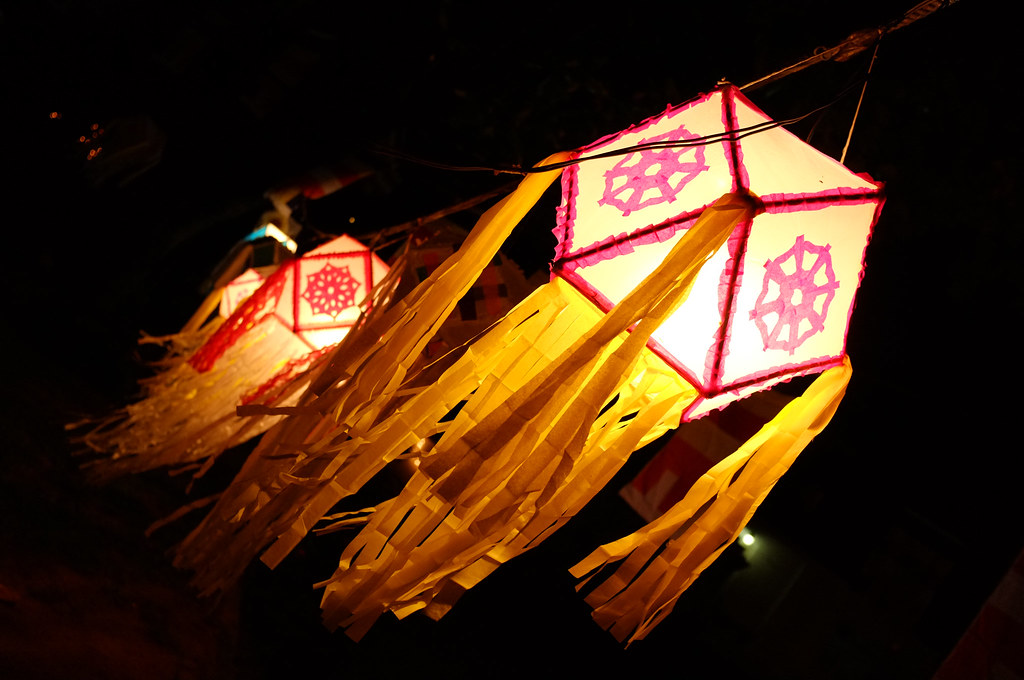 During ancient times, clay lamps were trendy, after which candles were used for illumination. Then colorful lanterns were made in a variety of shapes and sizes.
Creating Vesak lanterns has become a skillful art and competitions too are held by many associations. Valuable prizes are given to those that create the most beautiful lamps.
How to Make Vesak Lanterns?
Making of Vesak lanterns is one of the most important activities carried out in the month of May. Although lamps are readily available, the excitement of making them yourself is unparalleled.
Each year, there is a change in the art of making lanterns. People like to display their creativity and tell different stories through these lanterns.
A Quick DIY to Make Vesak Lanterns – Watch the Video
If you are a beginner at making Vesak lanterns, here's a step by step guide. One of the traditional Vesak lanterns is called the "Atapattama" (octagon-shaped lantern) and can be decorated in beautiful shades with long frills.
What you need:
Twenty-four bamboo sticks of the same length. If you can't find bamboo, any sort of wooden strips will be excellent too.
Twine – lightweight string
A sheet of board
Decorative materials for the lantern: colored tissue paper, transparent plastic sheets, or wrapping paper.
Scissors
Glue
Small candles placed in metal dishes
Instructions:
With the 24 sticks and twine, make six squares and tie each square with diagonals. It should be done in such a way that the string is stretched in both directions from opposite corners. Ensure your squares are perfect. To add strength to the lantern framework, you can also add glue to each of the intersections.

Now you have to tie each of the squares together. Here comes the tricky part. Get help from a friend who can hold the squares while you tie it.

Decide the face of your base. You will need to cut a cardboard piece to fit the base. You could also let the board sit on the sticks. Since this is the base where your candle will rest, it has to be quite long-lasting. Thus, we would recommend using glue.

Tie a string to the two opposite corners on the top of your frame which will hold the lantern together.

Next, you will have to cover the framework to add strength to your lantern. You can also have cut-outs in some places to make the lantern look beautiful. When attaching decorative elements, think about the finished look of your lantern.Before pasting everything together, do all the cutting and painting. If you're using candles, don't cover the top. Otherwise, you may end up burning the entire lantern down.

The best way to give your lantern a finishing touch is by hanging colorful tissue/crepe paper strips. You could also paint the pieces with glitter to create a dazzling effect at night. If your lantern in strong enough, you could even hang smaller lanterns from the corner.

Place your candle or light bulb on the base of your lantern.

Hang your lantern where people can see it and light it up at night. For candle-based lamps, you need to be extremely careful as there's a chance of the lantern catching fire.
During summer holidays, many schools have Vesak Kudu Nirmana workshops that teach children how to make their own origami lanterns. It's not just fun but exciting too for them.
Significance of Vesak Festival
Bringing happiness to others: Vesak is celebrated all over Sri Lanka to bring joy to the unfortunate like the aged, handicapped, and sick.On this day, Buddhists usually distribute gifts in cash and kind to various charitable homes throughout the country. It is a time of great joy and happiness as people from all walks of life get together to illuminate and decorate the capital.
Paying homage to the Buddha: The teachings of Buddha also have instructions on how to pay him homage. He advised everyone not to cry over the disintegration of his body but to regard his physical teachings.He also stressed that the way to pay homage to him was not merely by offering flowers, incense, and lights, but by honestly and sincerely striving to follow his teachings. That is why devotees wear simple white clothes to perform religious observances.
Sri Lankan Festival Food: No festival is complete without refreshments. All around the Buddhist temples, you will find food stalls set up by Buddhist devotees called dansalas offering free food and drinks to passers-by.From rice and curry to sweetmeats, ice creams and pickles, the food stalls offer the purest prasadam.
Vesak is the best time to visit Colombo as you get to witness a massive influx of people from all parts of the country. Being a festival of togetherness, it transforms the capital into a sparkling wonderland that is richly decorated with Vesak lanterns everywhere.
It is also a great time for tourists to enjoy the respite from the pre-monsoon heat of the south-west up in the hills of the east.
In the course of its celebration, it brings contentment to the people that spread throughout the country. That is the magic of Vesak.
Found this blog useful? Like, comment and share!
Sources: