'Once a year, go someplace you've never been before' – Dalai Lama
Every time I travel, I feel like a little transformation takes place within me. Besides exploring new places and meeting new people, it is an opening of your horizons to experience completely different cultures, customs, cuisines and landscapes.
For me, travel is the perfect catalyst for happiness. It allows me to escape from the mundane routine for a few days, and collect new experiences and memories.
Hey you all! I'm Natasha Gupta, a 26-year-old woman, trying to explore the world one country at a time.
Every summer, my family and I visit a place we've never been before. We look at it as a moment to spend quality time together and unleash our true selves.
In this blog, I will be reminiscing on the holiday we took last summer (May '18).
In the previous years, we've ticked off so many fascinating countries off our bucket list that we actually wondered what this summer had in store.
Little did we know, we would be heading to the Pearl of the Indian Ocean. You would have guessed by now, I am talking about a highly underrated travel destination but a country that has so much to offer – Sri Lanka.
This small island country has something for every kind of traveller – the thrill seeker, the pilgrim, the self-improver or the escapist.
Research and Bookings
Research is a travel pre-requisite. You cannot possibly travel to an entirely new country without having some kind of knowledge about the place, its people and culture. I read a couple of articles written by fellow bloggers and went through traveller reviews on TripAdvisor. I was pretty content with the information I got, and I decided to book right away.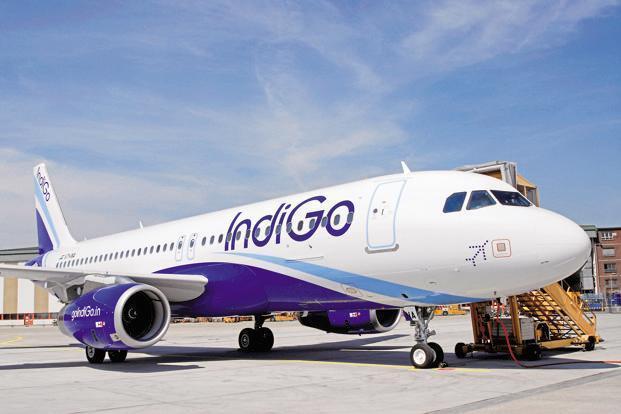 Image source: Google
Flights
To our advantage, 2018 was the year when IndiGo commenced operation of flights from Bangalore to Colombo, daily. I booked my tickets on MakeMyTrip. The round-trip fare per person was $128. The capital city, Colombo, is just about 1.5 hours from Bangalore, India. Our travel dates were 3rd May to 8th May 2018.
Stay/Accommodation
After booking flight tickets, the next step was to look for accommodation options. My family and I decided to spend two nights in Colombo and three nights in the south-western province.
For our stay in Colombo, I was looking for a decent boutique-style hotel that had the basic amenities and offered a good breakfast spread.
After hours and days of research on MakeMyTrip and Booking.com, I found a hotel that ticked off all the right boxes – Fairview Hotel, Colombo. A night's stay for two costs approximately $65.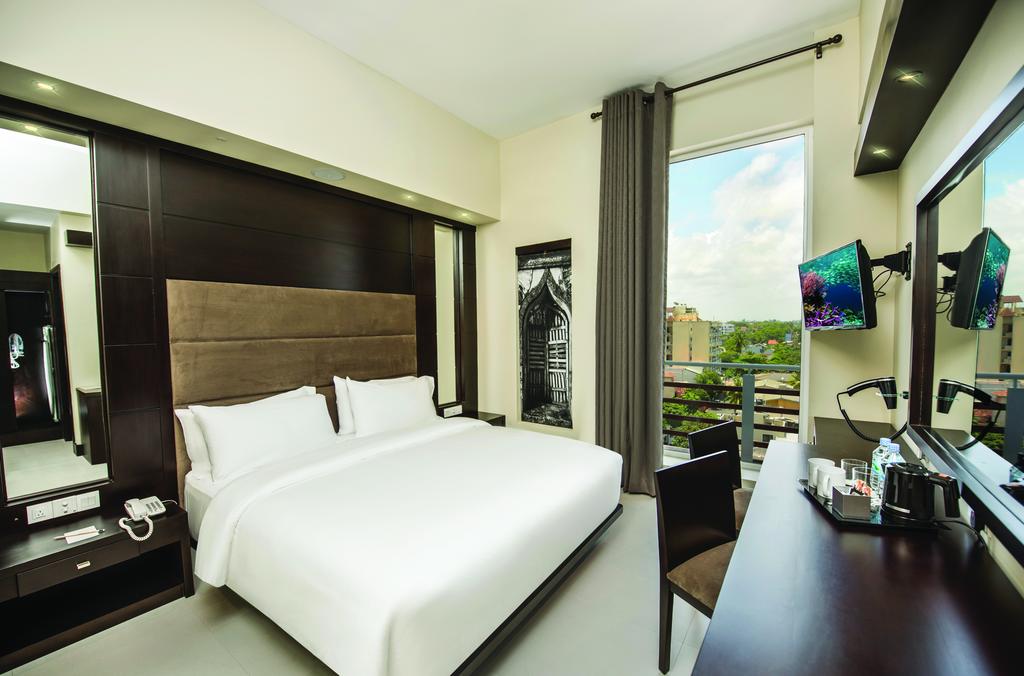 Fairview Hotel, Colombo
Image source: Google
The next step was to decide how we're going to spend the next three days. I had shortlisted few options down south. My list included Bentota, Hikkaduwa, Galle, Unawatuna and Mirissa. While I knew that it would not be possible to cover all the places in three days, I had to make a choice.
After recommendations and suggestions from my friends and family, I decided to spend the next three days in Hikkaduwa. Contrary to my former hotel choice, here I wanted something more upmarket, probably a one-of-a-kind beach getaway. I zeroed down on two hotels – Hikka Tranz by Cinnamon and Sapphire Seas Beachfront Hotel. However, after reading reviews on TripAdvisor, I decided to go with the latter.
A night's stay for two costs approximately $128.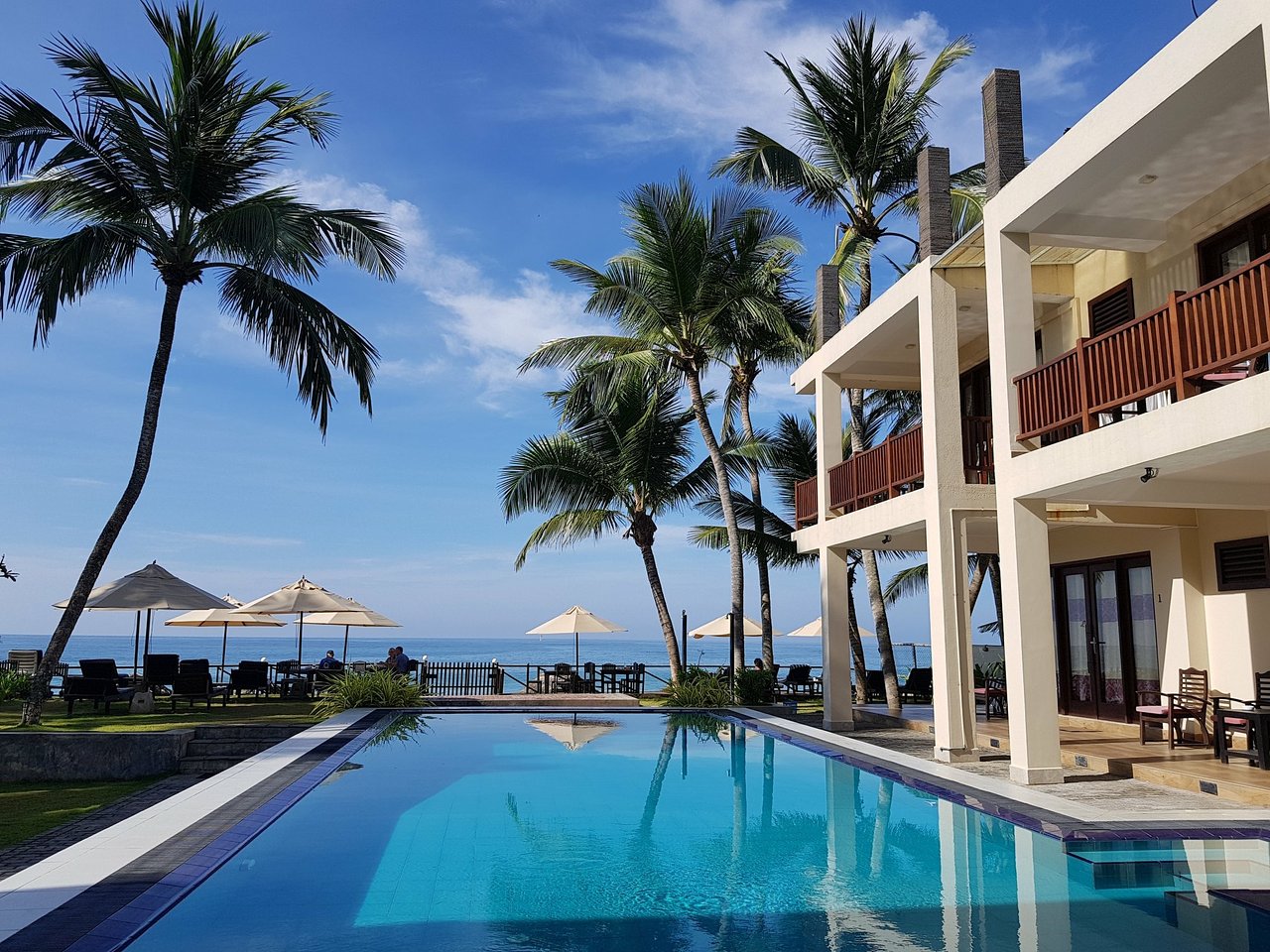 Sapphire Seas Beachfront Hotel, Hikkaduwa
Image source: Google
Visa
For short visits and tourism, Sri Lanka grants an Electronic Travel Authorization through their web-based visa system. To travel, you need to have a passport with six months validity. Unlike other countries, securing a travel permit from Sri Lanka is quite easy. All I had to do is fill in the online application and pay the ETA processing fee ($25). After entering the particulars and submitting my application, within a few hours I had my visa in my inbox. Well, that was quick!
Also Read: Sri Lanka Travel: An Experience Like none
Airport Transfers and more
Whenever I travel, I prefer being a little organized. Hence, I like to plan my transfers ahead of time. Prior to my holiday, I booked my airport and hotel transfers on http://taxigo.lk. They have a really good fare estimate calculator that roughly tells you the cost of your ride from your location to the destination.
Don't let the stress of planning overwhelm you, here's the perfect one-week itinerary to help you make the most of your Sri Lankan escapade.
Day 1
Landing in Colombo
We arrived in Colombo at 7 pm. After clearing immigration and collecting our bags, we headed to the point where we were told our driver would meet us. On meeting him, we learned that he had arrived an hour early. The first impression was great.
On the way to our hotel, it started to pour. Well, that's really not the welcome we wished for! Our driver told us that May to August is the rainy season and hence the number of tourists visiting was low. We were a bit forlorn.
Traveller tip: December to March is the best time to visit Sri Lanka.
We reached our hotel and paid our driver $15 for the ride from the airport. Since it was raining cats and dogs, we decided to stay indoors that night. We ordered some pizza and discussed our plan for the next few days.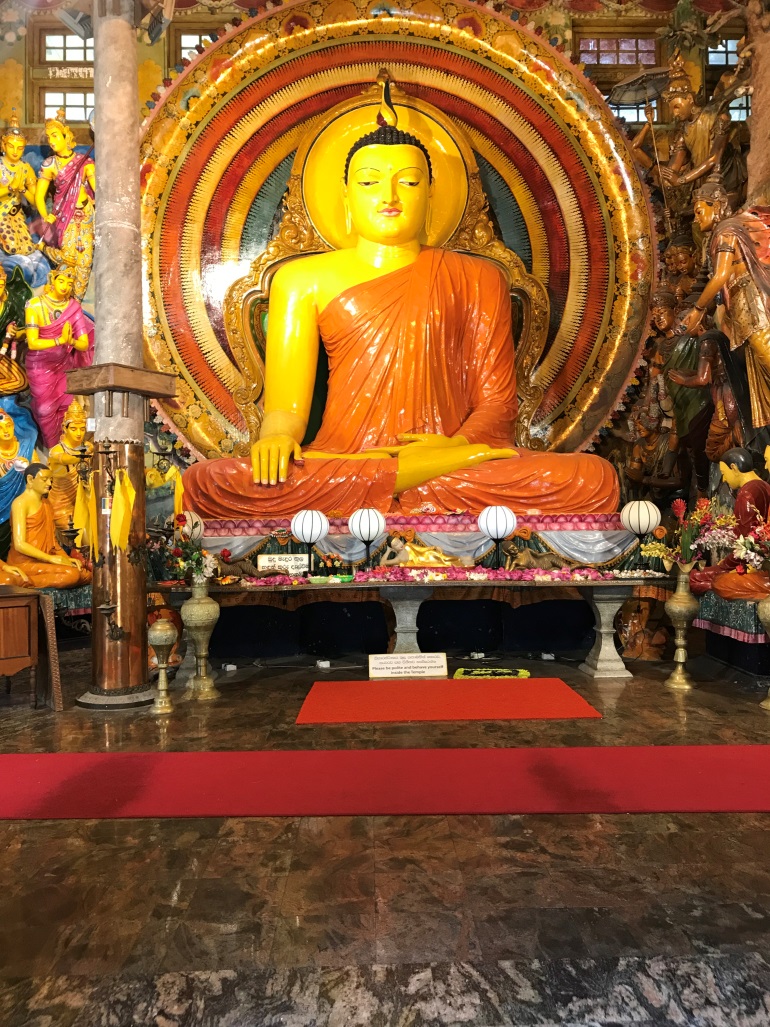 Image: The Buddha statue at the Gangaramaya Buddhist Temple
Day 2
Discovering Colombo
We woke up with the morning sun piercing through our faces.
Rejoice! The sun was out. It looked like it never rained. We didn't complain.
After a scrumptious breakfast of Sri Lankan dhal, string hoppers, coconut potato curry and coconut roti, we were ready to discover Colombo.
Since it was the only day we had in Colombo, we decided to make the most of it. From art galleries to enchanting temples, quaint cafes, bookstores, designer boutiques, pristine beaches and local markets, we saw it all. That's a lot for one day, but we tried to squeeze it all in.
Here are a few places we visited in Colombo:
Barefoot, a designer boutique and café.
Gangaramaya Temple
Paradise Road, a store that sells Sri Lankan crockery and artefacts.
The Gallery Café, an upmarket Italian restaurant
Cotton Collection
Laksala, a state-owned gift and souvenir boutique
Taj Samudra, one of the finest hotels in Colombo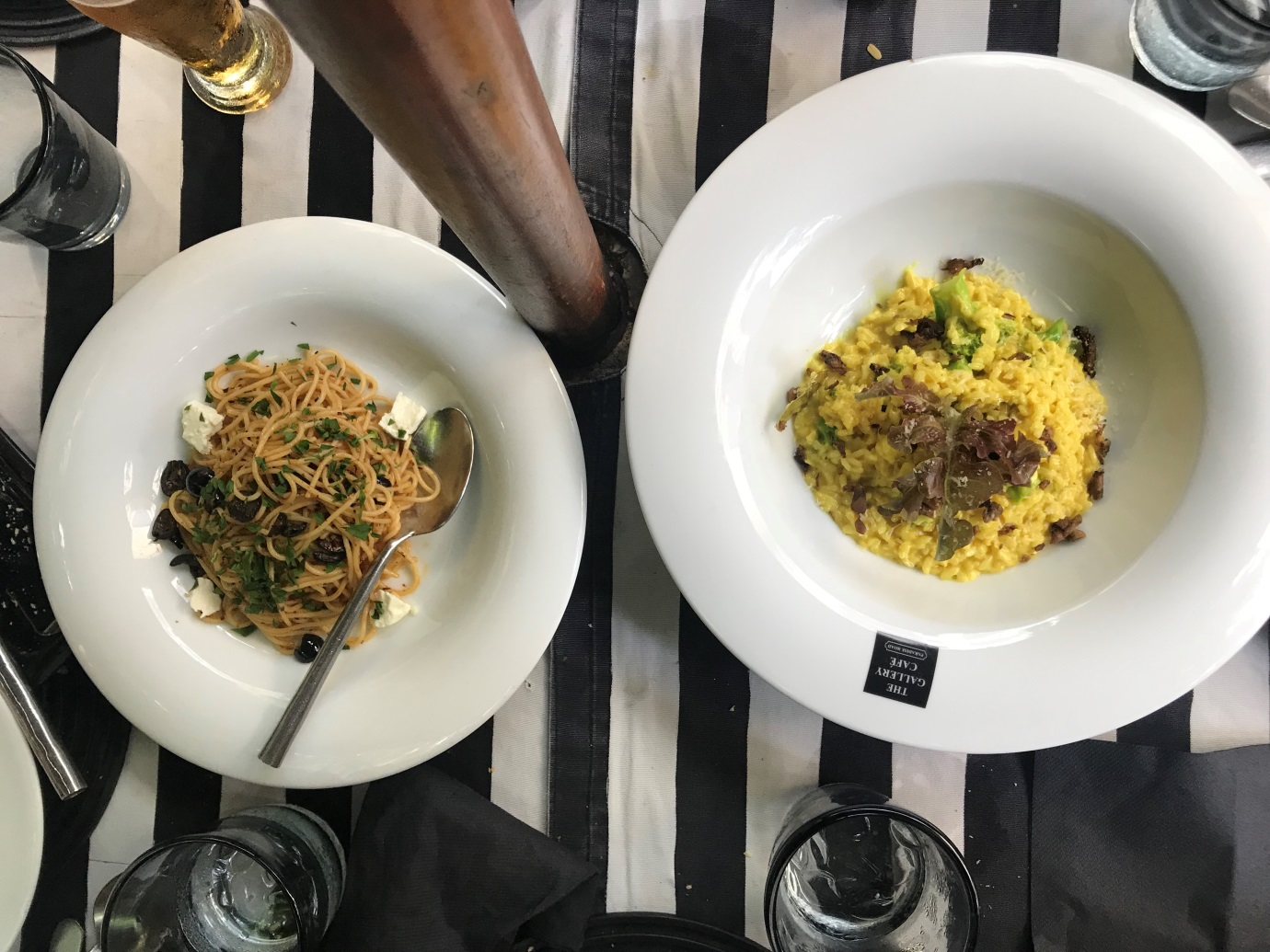 Image: Our meal at The Gallery Café.
Day 3
Drive from Colombo to Hikkaduwa
After checking out of our hotel, we hit the road and were on our way to Hikkaduwa. It is 116 kilometers from Colombo via the Southern Express Way. It takes two and a half hours to get there. The drive was scenic. We reached our hotel at 2 pm and were greeted by the lovely owner, Janette. She showed us around the hotel and made us comfortable. After a catnap and a pool session, we decided to head out and explore the streets of Hikkaduwa. Flanged with beach bars and restaurants on both sides, this place is truly a paradise for a party animal. We decided to just chill and hop from one bar to the other. Here are some of our favorite restaurants and bars in Hikkaduwa:
Mambos
Top Secret
Spaghetti and Co.
Mika Wu Café
Wood Fire Pizza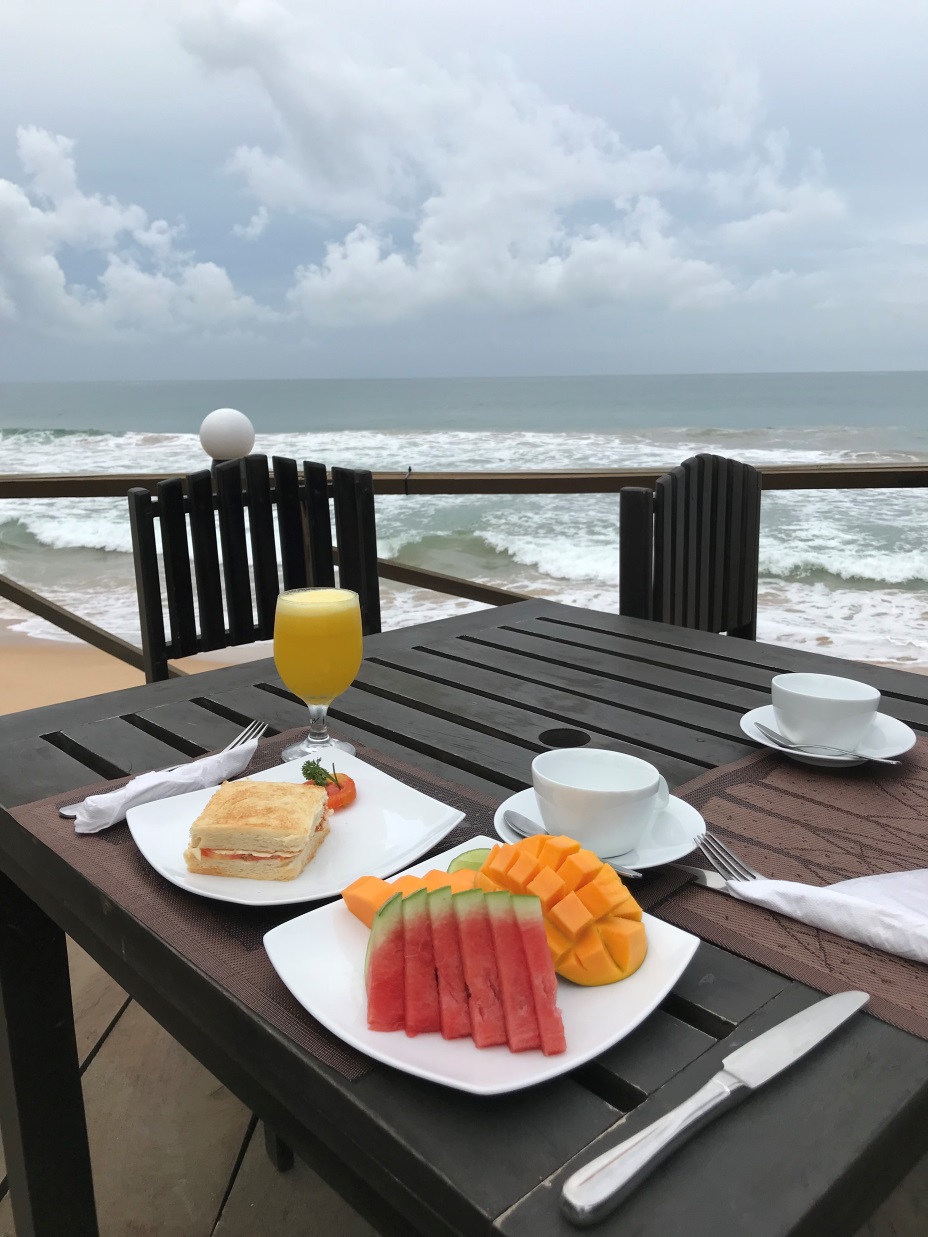 Image: Breakfast at our hotel
Day 4
Day trip to Galle
After breakfast, we took a tuk-tuk to Galle. The quaint, Dutch town is only 20 kilometres from Hikkaduwa. In thirty minutes we were there to explore the Galle Fort and much more.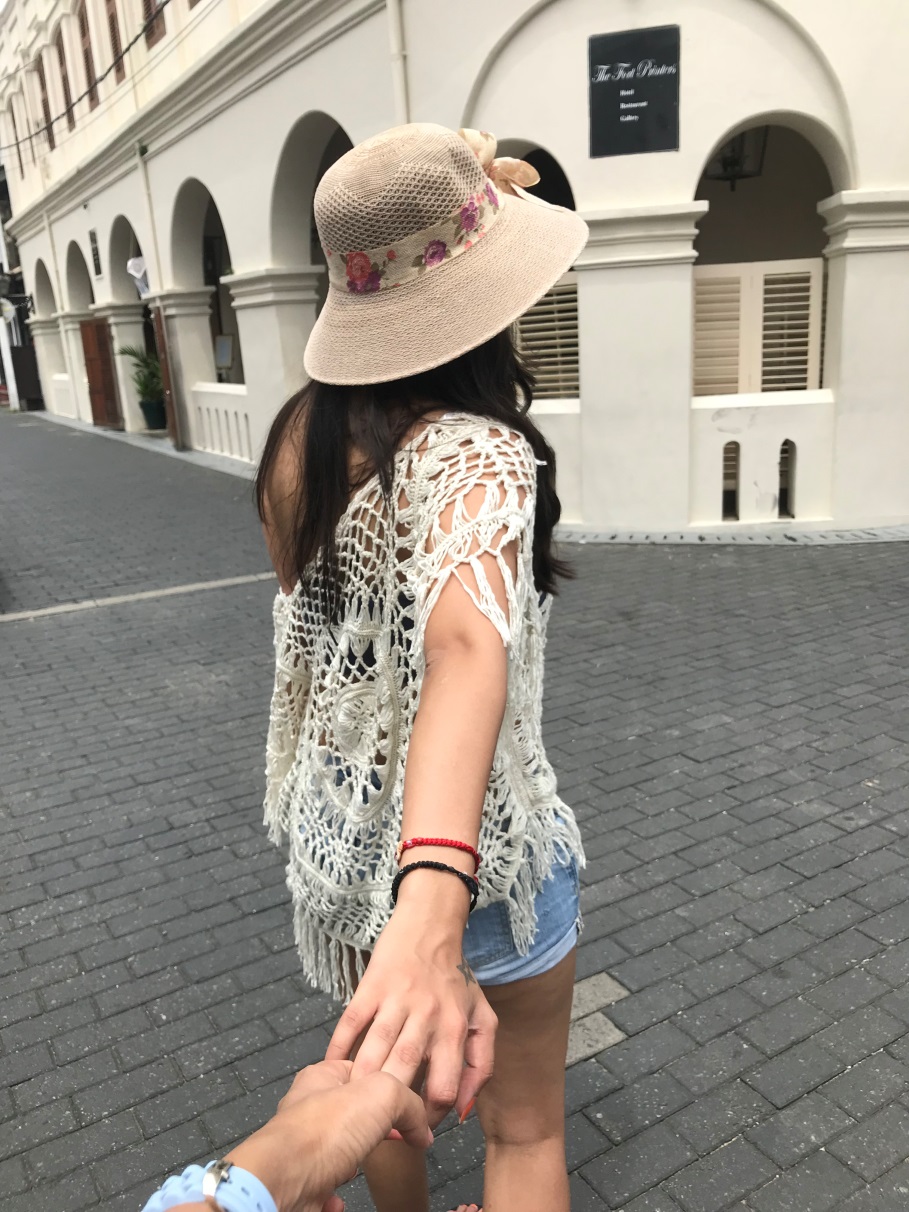 Image: #FollowMeTo Galle
Galle is a historic town oozing with old-world charm, rustic lanes, cobbled streets, Dutch-colonial buildings, crumbling mansions, charming boutiques, enchanting churches and quaint cafés.
Having spent the whole day there, we dined at Pedlar's Inn Café and Sugar Bistro and Wine Bar. As we walked around the little town, we bought some knick-knacks at Stick No Bills Ceylon, Embark and Orchid House.
The tuk-tuk ride to and fro cost us $14.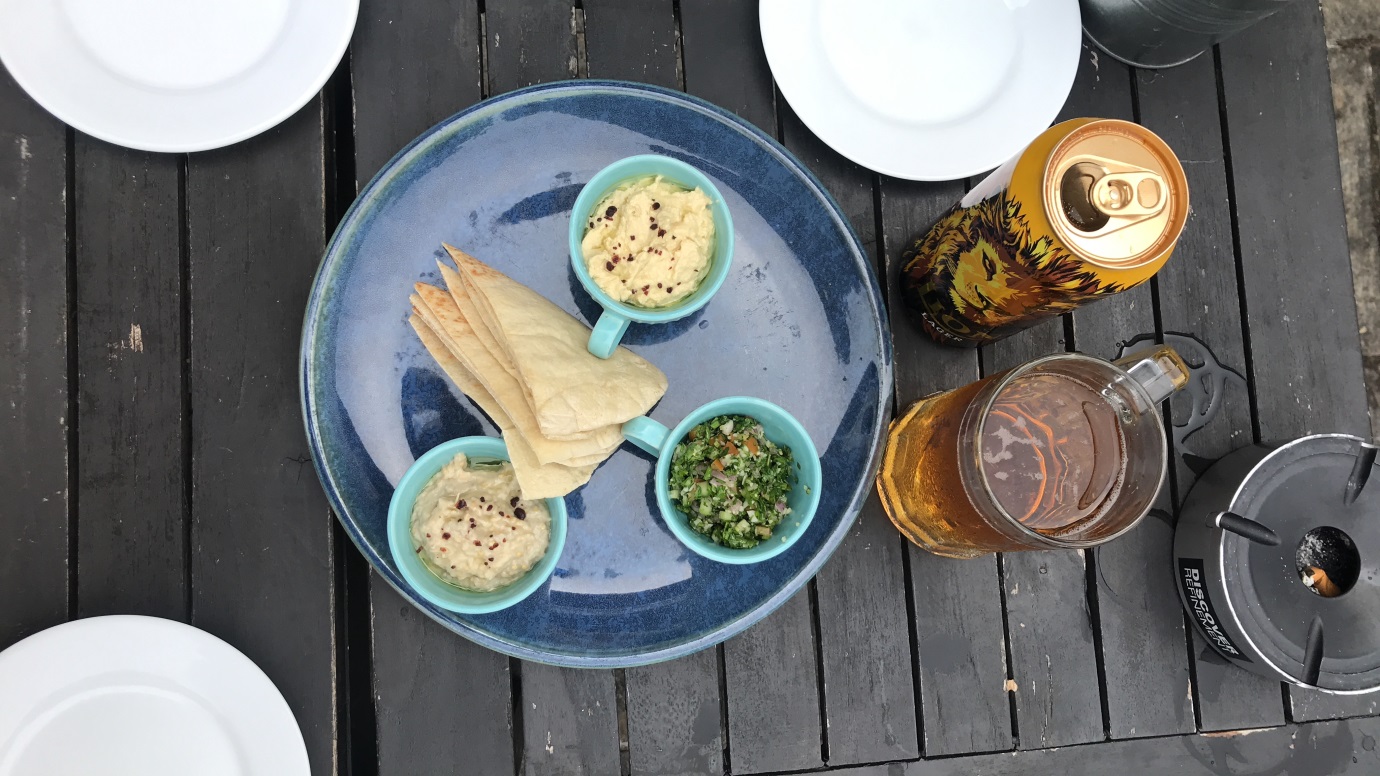 Image: Our meal at Sugar Bistro & Wine Bar
Day 5
Madu Ganga Excursion
On the last day of our vacation, we decided to kick back and relax in our hotel. However, my mum had read about the Madu Ganga Excursion and was keen on doing it.
Madu Ganga is situated in Balapitiya, along with the country's southern coast. It opens up to the Indian Ocean. We sighted a Kingfisher waiting for its prey, gigantic chameleons and monkeys nibbling fruits. Balapitiya is about a 45 minutes' drive from Hikkaduwa.
The boat trip lasted for one and a half hours and we got to see so much. Besides going up-close to the mangroves, we visited a cinnamon island where fresh cinnamon was prepared. The next stop was a Buddhist monastery. At the end of the excursion, my sister and I indulged in a fish spa right in the middle of the river. This was truly an experience second-to-none. The tour was priced at $13 per person.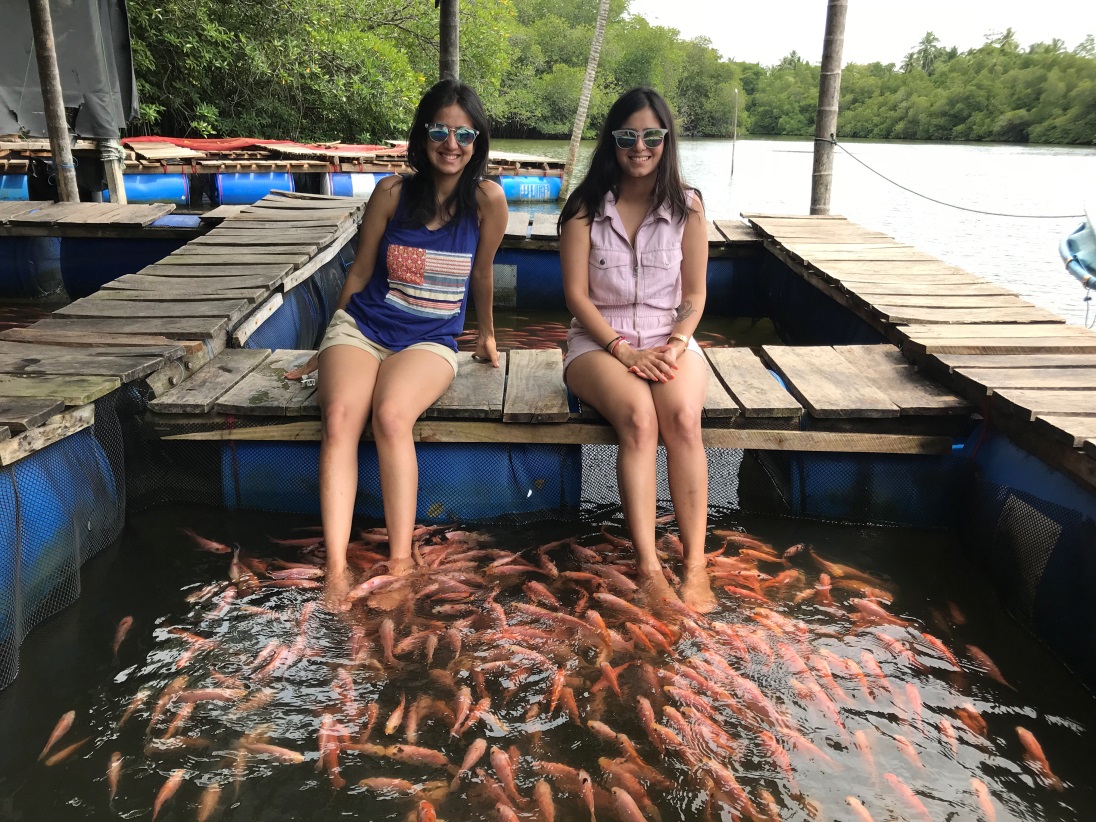 Image: My sister and I enjoying the fish spa at Madu Ganga
Day 6
Drive from Hikkaduwa to Colombo Airport
After a whole week of fun and collecting memories, it was time to bid adieu to the beautiful country. We were on the road again, but this time, on our way to the airport to head back to our own country, India.
Our stay in Colombo and Hikkaduwa was nothing short of beautiful. We interacted with the most amazing people and went to some truly enchanting places.
I'm glad I got to tick off Sri Lanka off my bucket list. Though the stay was short, we tried to do as much as we could. I will definitely go back to explore the other parts of the country. And this time, for longer. If I do visit in the near future, I'll definitely share my experience with all of you.
Found this blog useful? Like, comment and share!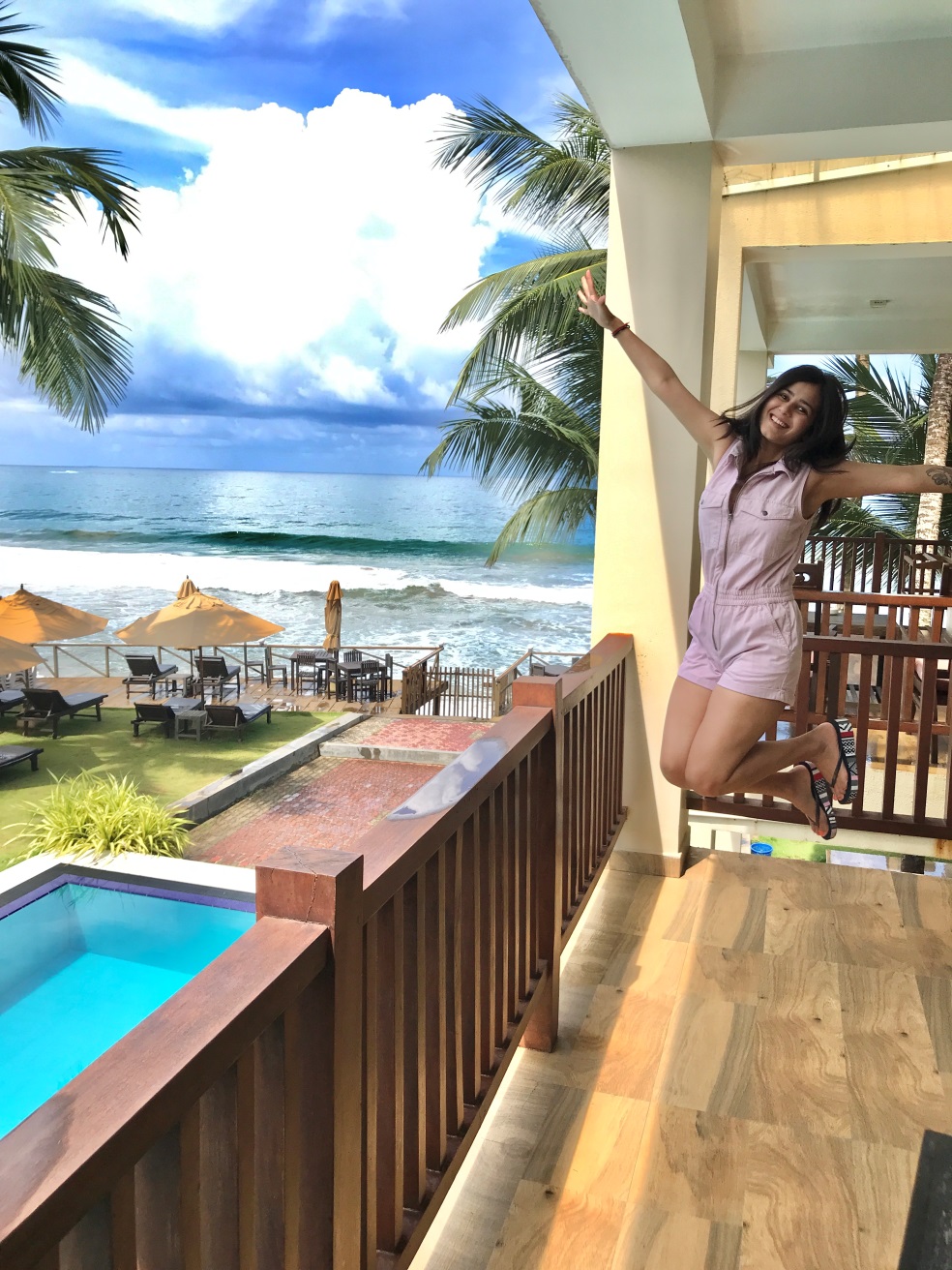 Image: A happy picture of me at our hotel in Hikkaduwa