Most people in Sri Lanka begin their morning with a good cup of tea. It is, in fact, the most consumed drink next to the water. It is considered a natural beverage over which families bond at social events. Sri Lankan tea is well-known for its flavor, color, and character which cannot be found elsewhere. Therefore, it's safe to say that the Sinhalese are primarily tea people.
Owing to this, for very long, great coffee was very hard to find in Sri Lanka. Despite the influx in the number of cafes, there was always a problem with the quality of coffee served. One could only find a cup of coffee that was good enough to give a caffeine kick not to satisfy one's thirst for a mean cup of coffee.
Did you know? Before Sri Lanka came to be known as a tea country, it was the biggest exporters of coffee, alongside Brazil.
However today, things are changing. The coffee shop epidemic has spread all around the world, and Sri Lanka is no exception.
The capital city, Colombo, has a handful of coffee shops that not just make a great cup of coffee but artisan coffee too.
It's amazing to see how the coffee shop culture is catching up in every city in the world. Today, cafés are not just viewed as a place to quickly grab a drink on-the-go. It has, in fact, become a humble abode for artists to spend time or simply read a book.
Driven by the rise in the flexibility of working-from-home, millennials prefer working from these coffee shops as most of the outlets have free availability of Wi-Fi.
Most of the coffee shops in Colombo use locally sourced beans to prepare the beverage. However, there are a couple of cafés that import the best quality coffee beans from around the world.
In this blog, we're filtering down the best coffee shops in Colombo where most caffeine cravers unite for a freshly ground cup.
Also Read: What to Eat in Sri Lanka? 10 Must-Try Dishes!
Plus Nine Four
Address: 35 D. S. Fonseka Rd, Colombo 00500, Sri Lanka
Hours: Monday to Sunday – 9am to 6pm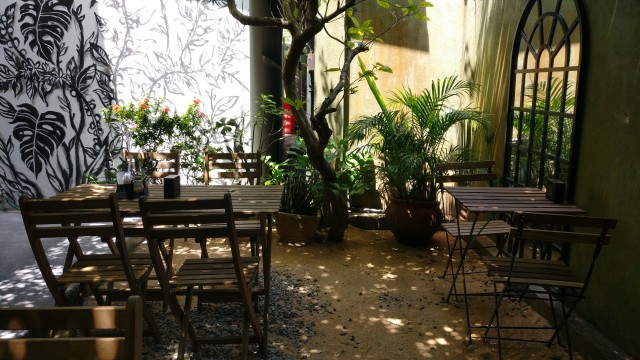 Plus Nine Four is a gorgeous coffee shop run by a mother-daughter duo. Tucked away from the hustle-bustle of the city in Colombo backstreet, the café is a heavenly abode for coffee lovers. It is nestled in a place that was earlier a house-turned-office and now a café.
After achieving much success with their first initiative Café Kumbuk, the duo decided to spread their wings further with Plus Nine Four.
The owners strongly feel the need to support local vendors and farmers. Hence, most of their fruits and vegetables are sourced from small scale suppliers. They have made a commitment to go local in everything they do.
For their coffee, they use locally sourced beans in medium and dark roast – Soul Coffee.
Their passion for coffee makes them one of the finest cafes in the city.
On their menu, you'll find a variety of coffee-based beverages. Our favourites are the cappuccino, iced coffee and the Chemex drip coffee. The best part is that all their coffees can be enjoyed hot or iced.
The coffees are topped with artisan cream. *Drool*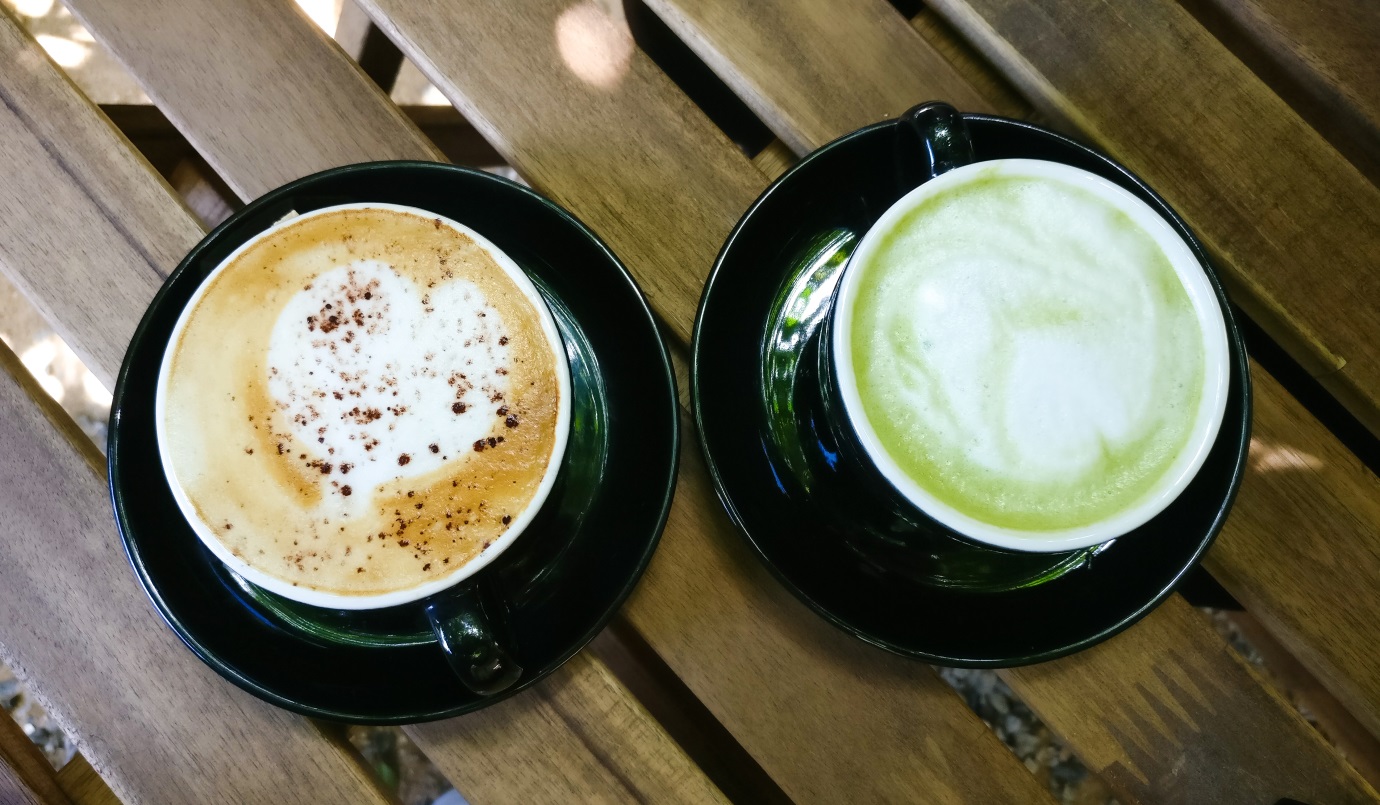 Besides coffee, they have an extensive menu of smoothies, teas and juices.
Their range of cakes and pastries are made from scratch on a daily basis by their in-house chef. So don't forget to try that as well.
If you like some small plates and mains to go with your coffee, they have you sorted with savoury options too.
Vegetarian, vegan and gluten-free options are there too.
Price: A good cup of coffee costs $2.5 while a meal for two would be $10-12.
Coco Veranda
Address: 32 Ward Pl, Colombo 00700, Sri Lanka
Hours: Monday to Sunday – 7am to 1am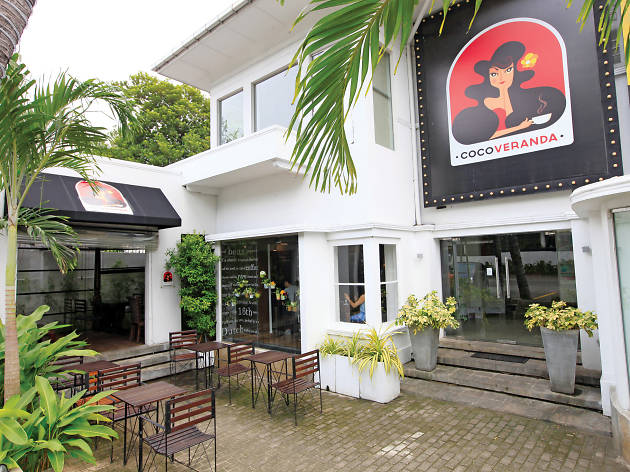 Coco Veranda is a huge hit with locals. Their coffee, dessert, drinks and sandwiches are held in very high regard by the people. They currently operate in two locations in Colombo – 03 and 07.
If a strong cup of coffee and English breakfasts are your thing, you definitely to make a visit here.
A caffeine addict will definitely be spoiled for choice as they serve everything right from an Americano to a Macchiato, Cappuccino and white chocolate mocha latte. They even do amazing Italian hot chocolates too.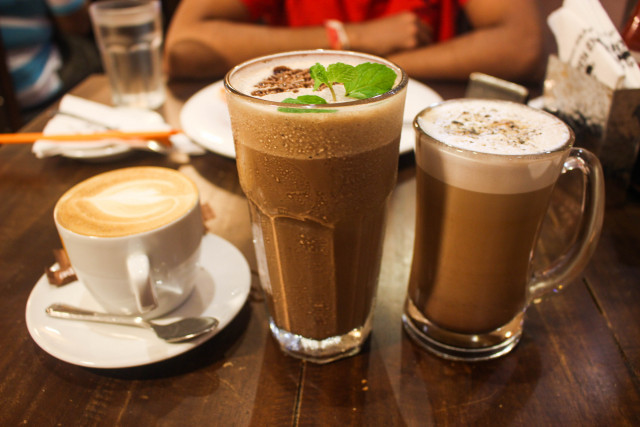 The cutest part of the café is that they have something for everyone. They're definitely a one-of-a-kind café that has something for babies too, known as the Babyccino. It's free for children less than 5 years of age.
You'll also find iced coffees, frappes, milkshakes and tea lattes. Besides their much talked about all-day breakfast, they have some small plates, salads, seafood, and meat and poultry options too. The sad part is that there's very little choice for vegetarians. However, their egg-free cakes and desserts are to die for.
Price: A mean cup of coffee costs about $3.5 while a meal for two would be anywhere between $15-20.
Also Read: How to Spend One Week in Sri Lanka: A Personal Experience
Whight and Co.
Address: Aloe Ave, 24 Marine Drive, Colombo 00300, Sri Lanka
Hours: Monday to Sunday – 7:30am to 11pm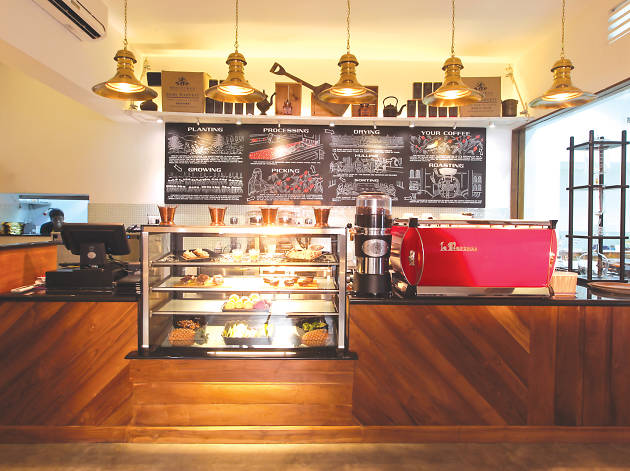 Whight and Co. is another popular coffee shop in Colombo. They serve the best coffee in town. If you do happen to visit try their Pour Over ($2.5), the Cold Drip ($2.5) and the Vietnamese Ca phe sua da ($2.5).
Their coffee beverages are made with locally-sourced coffee beans. It has a strong, distinctive aroma. They're perfectly brewed and can be enjoyed with or without milk and sugar.
The coffee shop is run by owners of Cricket Club. Since they grow their own coffee beans, you can expect to savour a coffee from field to cup.
They serve amazing food too. Since it overlooks the Marine Drive, sunset would be the best time to visit. You can also enjoy a breath-taking view of the ocean.
From light, fluffy croissants to full-fledged breakfasts, desserts and sundaes, you'll find it all at this magical café. They also have a variety of burgers, soups, salads and mains satisfying the palate of vegetarians and meat lovers.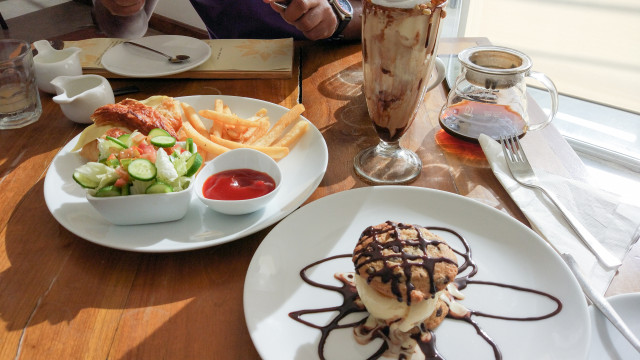 While coffee is the main reason you must visit the place, they're food should not be given a miss either.
Price: A cup of coffee costs $2.5 while an average meal for two is anywhere between $15-18.
Kopi Kade
Address: 15/3 Stratford Ave, Colombo 00006, Sri Lanka
Hours: Wednesday to Sunday – 12pm to 9pm
Nestled in the busy streets of Stratford Avenue, Kopi Kade (Translates to Coffee Shop in Sinhalese) is the brainchild of Australian-Sri Lankan, Nimeshan Namasivayam. He has worked in the coffee industry for 15 years. He is a coffee roaster and a professional coffee taster. In Colombo, Kopi Kadi is one place which takes their coffee very seriously.
Besides roasting his own coffee, he imports quality coffee from the United Kingdom, Singapore, Australia and New Zealand.
Kopi Kade is not just a coffee shop, but a coffee school too. The creator conducts classes on Mondays and Tuesdays to teach people how to brew a perfect cup of coffee.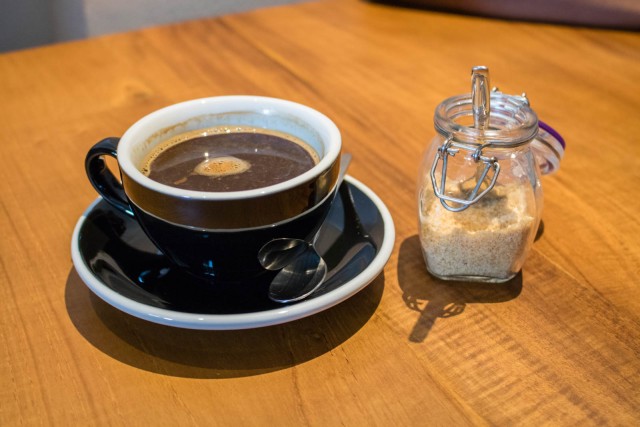 They serve macchiato, cappuccino, mocha, affogato, latte and espresso. Their hot chocolates are great too.
To go with the coffee, they have an extensive menu that comprises of Sri Lankan short eats. The best part of this coffee shop is that all the food served is made in-house without the use of preservatives. The menu is a fine balance of vegetarian and non-vegetarian options and hence there is something for everyone.
Whether it's catching up with a friend or looking for quiet spot to read, Kopi Kade is definitely the place to be.
Price: A cup of coffee costs $3 while their savoury dishes start at $4.
Also Read: The Everyday life of a Local Sri Lankan Family
Butter Boutique
Address: 70 Rosmead Pl, Colombo 00700, Sri Lanka
Hours: Monday to Thursday, Sunday – 8am to 8pm Friday and Saturday – 8am to 11pm
Coffee and cake is definitely a match made in heaven. Butter Boutique is a star patisserie and coffee shop in Colombo that stands true to the fact.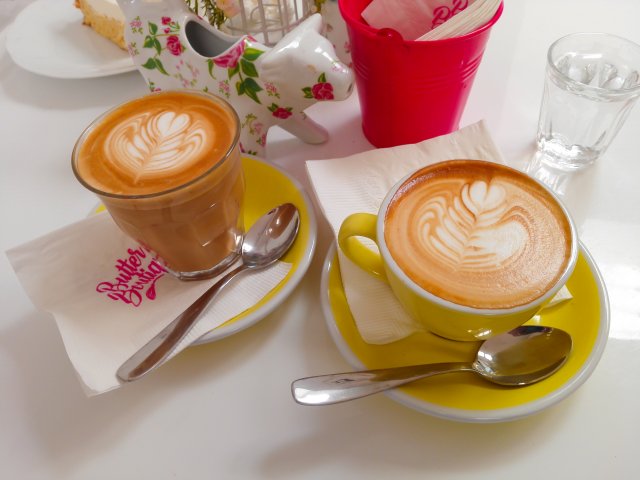 Most locals in Colombo are familiar with the place. If you ask anyone where you get a cake and caffeine fix, chances are they'll all lead you to Butter Boutique.
Most of the coffee beans they used are imported from different parts of the world including Brazil, Ethiopia, India, Timor and Guatemala. It's medium to dark roast and wash-processed coffee.
It took the owners years of practice to create the perfect cup of coffee. The coffee they serve is distinct because of their state-of-art coffee machinery – La Marzocco.
Caffeine addicts should try their coffee drink called Magic. Steamed milk is poured over a double ristretto and served in a smaller 160ml cup.
Their iced mocha and latte is delicious too. If you do happen to visit, don't just go for their coffee. The desserts and cakes are to die for. Their popular confections include Nutella Scrolls, Apple Cinnamon Scrolls, Lemon Blueberry Cake and so on.
Though the coffee shop is slightly on the pricier side, it is worth a visit.
Price: Their most expensive slice of cake costs $4 while a mean cup of coffee is $3.
Though Colombo is primarily a tea drinking city, you will find a handful of coffee shops that will satisfy your thirst for a mean cup of coffee.
The above five listed coffee shops are our favourite picks.
If you know of any places we have missed out that serve a great cup of coffee in Colombo, share it with us in the comment section below.
Found this blog useful? Like, comment and share!
Image Source: Google